Kingston Digital Announces Pocket-Sized XS2000 Portable SSD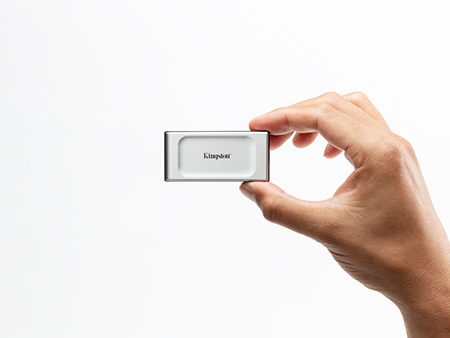 USB 3.2 Gen 2x2 performance
Portable durability
Sunbury-on-Thames, UK – September 7th, 2021 – Kingston Digital Europe Co LLP, a flash memory affiliate of Kingston Technology Company, Inc., a world leader in memory products and technology solutions, today announced it is shipping XS2000, a pocket-sized portable SSD utilizing USB 3.2 Gen 2x2 speeds to deliver next-gen performance in a compact, external on-the-go drive.
XS2000 delivers lightning-fast transfer speeds up to 2,000MB/s1 giving users enhanced productivity with little interruption. XS2000 offers remarkable performance and capacities up to 2TB2 to offload and edit high-res images, 8K videos and large documents in a flash. The drive connects with USB Type-C®3 allowing content creators to easily store and access their files anywhere on a PC or mobile device. At nearly half the size of a typical portable SSD, XS2000 includes a removable ruggedized sleeve and IP55-rating4 to withstand water and dust, making it the perfect companion for on-location adventures whether you go from work to play to passion projects.
"XS2000 is purpose-built with the ultimate combination of high performance and high capacity to keep up with the content demands of consumers around the world," said Tony Hollingsbee, SSD Business Manager, Kingston EMEA. "Plus the compact size, similar to a key fob, and added durability make this the ideal drive to keep productivity flowing for the everyday content creator to prosumer and corporate professional."
XS2000 is available in capacities 500GB to 2TB and is backed by a limited five-year warranty5 with free technical support. For more information visit kingston.com.
XS2000 Portable SSD Features and Specifications:
USB 3.2 Gen 2x2 Performance: Industry-leading read/write speeds up to 2,000MB/s1.
High-speed Capacities: Up to 2TB2 to support high resolution images, 8K videos, and large documents.
Built for Durability: Tested to be water resistant, dust resistant4 and shockproof with an included rubber sleeve.
Pocket-sized Portability: Small, lightweight form factor for easy, on-the-go storage.
Interface: USB 3.2 Gen 2x2
Speed1: Up to 2,000MB/s read, 2,000MB/s write
Capacities2: 500GB, 1TB, 2TB
Dimensions: 54 x 32.58 x 13.5mm
Weight: 9g
Casing Material: Metal + Plastic
Operating temperature: 0°C~40°C
Storage temperature: -20°C~85°C
Warranty/Support5: Limited 5-year warranty with free technical support
Compatible with: Windows® 10, 8.1, Mac OS (v.10.14.x +), Linux (v. 2.6.x +), Chrome OS™
Compatibility Table

USB 3.2 Gen 2x2

Windows® 10

✓

Windows 8.1

✓

Mac OS (v. 10.14.x +)

✓

Linux (v. 2.6.x +)

✓

Chrome OS™

✓
XS2000 Portable SSD

Part Number

Capacity

SXS2000/500G

500GB

SXS2000/1000G

1TB

SXS2000/2000G

2TB

1 Speed may vary due to host hardware, software and usage.
2 Some of the listed capacity on a flash storage device is used for formatting and other functions and thus is not available for data storage. As such, the actual available capacity for data storage is less than what is listed on the products. For more information, go to Kingston's Flash Memory Guide.
3 USB Type-C® and USB-C® are registered trademarks of USB Implementers Forum.
4 IEC/EN 60529 IP55 certified to withstand water flow and limited dust contact. Must be clean and dry before use.
5 Limited warranty based on 5 years or "SSD Life Remaining" which can be found using the Kingston SSD Manager. A new, unused product will show a wear indicator value of one hundred (100), whereas a product that has reached its endurance limit of program erase cycles will show a wear indicator value of one (1). See Kingston.com/wa for details.
Kingston can be found on:
YouTube: http://www.youtube.com/kingstontechmemory
Facebook: http://www.facebook.com/kingstontechnologyeurope
Twitter: http://twitter.com/kingstontech
LinkedIn: http://www.linkedin.com/company/kingston
Instagram: https://www.instagram.com/kingstontechnology
About Kingston Technology Company, Inc.
Kingston Technology Company, Inc. is the world's largest independent manufacturer of memory products. Kingston designs, manufactures and distributes memory products for desktops, laptops, servers, printers, and Flash memory products for PDAs, mobile phones, digital cameras, and MP3 players. Through its global network of subsidiaries and affiliates, Kingston has manufacturing facilities in California, Taiwan, China and sales representatives in the United States, Europe, Russia, Turkey, Ukraine, Australia, India, Taiwan, China, and Latin America. For more information, please call +44 (0)1932 738888 or visit www.kingston.com
Kingston and the Kingston logo are registered trademarks of Kingston Technology Corporation. All rights reserved. All other marks may be the property of their respective titleholders.
Media Relations:
Kingston PR Team
Kingston Technology Europe Co LLP
+44 (0) 1932 738888
[email protected]
Maggie Zaboura
Zaboura Consultancy Ltd
+44 (0) 2072973371
[email protected]