Kingston FURY Partners with Ninjas In Pyjamas As Official Gaming Memory Provider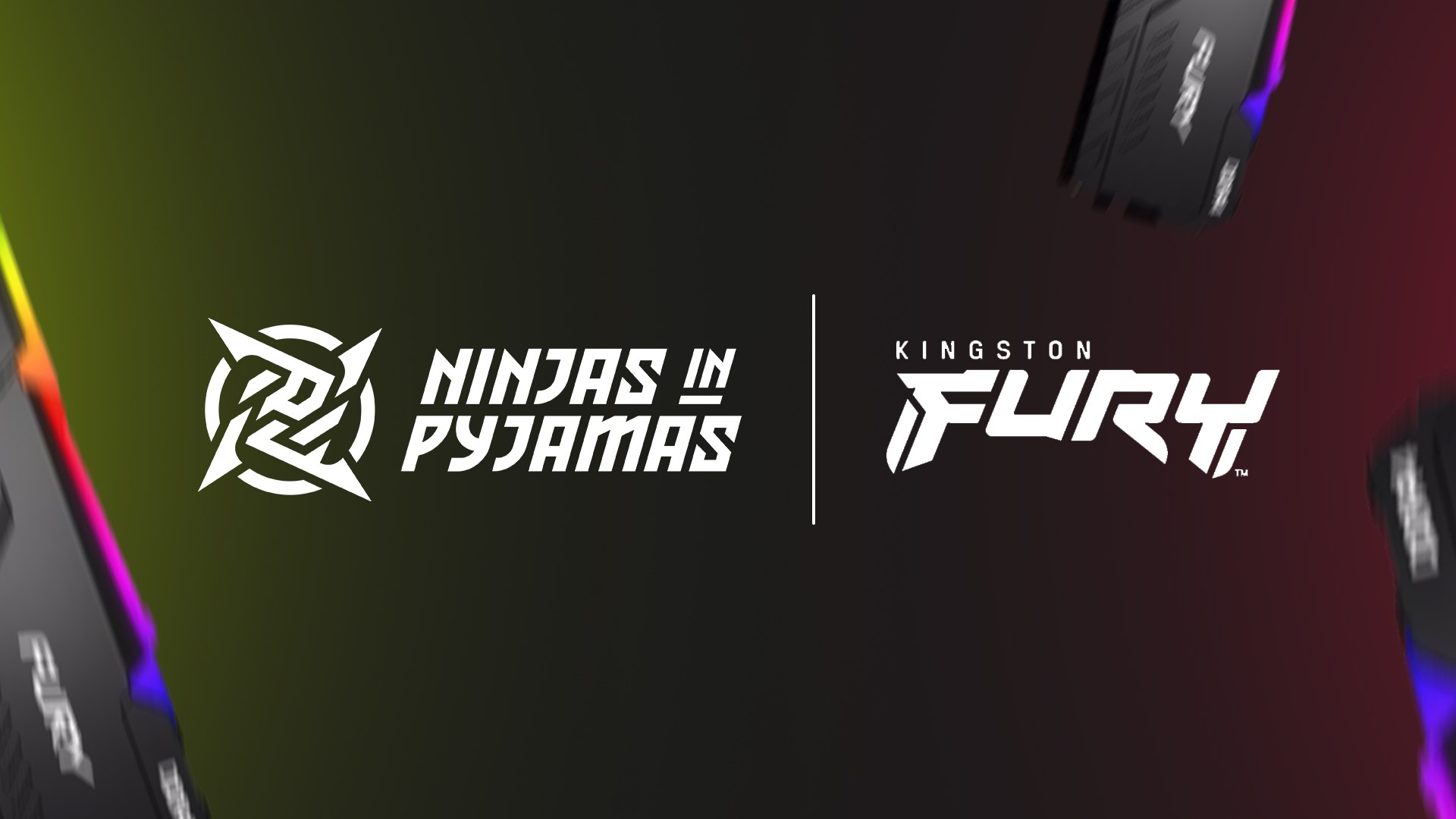 Sunbury-on-Thames, UK – 14th July, 2022 – Kingston Technology Europe Co LLP, an affiliate of Kingston Technology Company, Inc., a world leader in memory products and technology solutions, announces its partnership with legendary esports organization Ninjas in Pyjamas. The two-year deal makes Kingston FURY the official memory partner of Ninjas in Pyjamas, ensuring maximum hardware performance across all Ninjas in Pyjamas' owned esports teams with FURY's high-performing gaming RAM line.
Besides providing the world's best RAM for Ninjas in Pyjamas esports athletes, the partnership will focus on generating aspirational content and social media activities for Ninjas in Pyjamas global audience.
"Gamers detect the smallest inconsistencies in every hardware setup, and consequently we are always optimizing the setup to guarantee superior performance. With Kingston FURY, we can be sure we meet the highest requirements and standards for optimal gaming performance. The Kingston FURY line will unquestionably unleash the true power of our athletes." said Hicham Chahine, CEO at Ninjas in Pyjamas.
Hicham continued, "Kingston is a respected and reliable brand within the gaming hardware sector, and we are incredibly proud and excited to work with them to elevate gaming performance for all our athletes across the world."
"Kingston FURY has established itself as a leader in gaming memory since its reintroduction a year ago, we are very happy to welcome Ninjas in Pyjamas to the Kingston family" said Robert Allen, Marketing Director, Kingston EMEA. "With Ninjas in Pyjamas at our side, we can work together to take Kingston FURY to the next level!" said Allen.
Kingston has always been a proud and regular sponsor of esports and is looking forward to its partnership with an OG team in Ninjas in Pyjamas. We are committed to the community and are excited to reintroduce Kingston FURY to Ninjas in Pyjamas' fans.
For more information visit kingston.com/gaming.
Retrouvez Kingston sur:
A propos de Kingston Technology Europe Co LLP 
Kingston Technology Europe Co LLP et Kingston Technology Company, Inc. font partie du même groupe, Kingston. Kingston est le plus grand fabricant indépendant de produits mémoire au monde. Qu'il s'agisse de big data, de PC portables ou d'ordinateurs, d'appareils basés sur l'IoT comme les technologies intelligentes et les wearables, de technologies de conception et de fabrication en sous-traitance, Kingston contribue à fournir les solutions utilisées pour vivre, travailler et jouer. Les plus grands fabricants de PC et les plus grandes entreprises d'hébergement cloud du monde entier dépendent de Kingston pour leurs besoins de fabrication, et notre passion alimente la technologie que le monde utilise chaque jour. Au-delà de nos produits, nous nous efforçons de voir plus loin, de répondre aux besoins de nos clients et de proposer des solutions qui font la différence. Pour en savoir plus sur Kingston et Kingston Is With You, rendez-vous sur Kingston.com.
Note de la rédaction : Pour toute information complémentaire, demande de prêts produits ou d'interviews de porte-paroles, veuillez contacter Debbie Fowler, Kingston Technology Europe Co LLP, Kingston Court, Brooklands Close, Sunbury-on-Thames, TW16 7EP. Des images destinées à la presse sont disponibles sur l'espace presse de Kingston ici.
# # #
Kingston et le logo Kingston sont des marques déposées par la société Kingston Technology Corporation. IronKey est une marque déposée de Kingston Digital, Inc. Kingston FURY et le logo Kingston FURY sont des marques déposées de Kingston Technology Corporation. Tous droits réservés. Toutes les marques commerciales sont la propriété de leurs détenteurs respectifs.
Contacts presse
EMEA PR Team
Kingston Technology Europe Co LLP
+44 (0) 1932 738888
[email protected]
Alexis Bletsas
Hotwire PR
[email protected]
+33 1 43 12 55 55