In the last few years there's been a rise of breaches, theft and loss of confidential company and personal information. With global regulations, such as the EU GDPR focused on data security the reality of fines due to careless loss of data has driven many organizations to effectively secure their everyday business data. Such data is at the heart of every organization and maintaining effective protection against data security threats to avoid any legal and financial impact is critical.
Implementing 'Self-Encrypting Drives' (SEDs) that provide hardware-based AES 256-bit encryption data security has fast become the solution to stop the increasingly loss of sensitive data through the theft or loss of computers, laptops and tablets containing confidential company, customer and client information.
Kingston's Opal drive — Security without compromising performance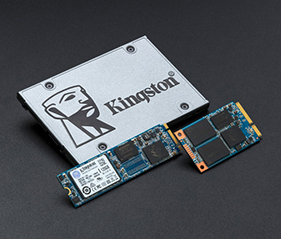 Kingston Technology's UV500 uses the latest 3D NAND flash and includes TCG Opal 2.0 with AES 256-bit encryption for customers looking to enhance their client system security. Multiple form factors provide flexibility in implementation with 2.5", M.2 and mSATA solutions for desktops, small form factor PC, laptops and tablets.
As a security solution, the UV500 allows IT departments to protect company data - whether it is company IP, client or employee records, or other sensitive data on company laptops and desktops.
Why TCG Opal?
The Opal specification of the Trusted Computing Group (TCG) is a standard for creating and managing interoperable SEDs for the protection of data "in transit" and "at rest" from compromise due to loss, theft, repurposing or drive end of life.
Easy to deploy, use and manage – Kingston's TCG Opal drives present many benefits for any organization.
3D NAND Performance
Designed with the latest technology along with hardware encryption technology allows the drive to operate at full data rate with minimal impact on system performance compared to software encryption.
Encrypted SSD
Opal is a proven standard for data confidentiality providing hardware-based encryption to organizations as the most effective solution to restrict access to unauthorized use. Multiple form factor support for 2.5" / M.2 / mSATA solutions. A GDPR ready* asset in a company's quest for compliance.
Data Loss Prevention (DLP)
Minimize the risk of data theft when compared to traditional hard drives that are non-protected and unsecure. Easy to deploy and compliments endpoint drive security solutions from independent software vendors such as, WinMagic, Symantec, McAfee, Sophos and others.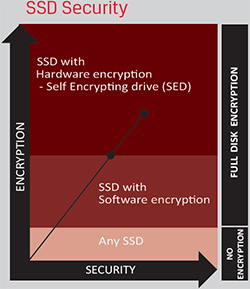 Stronger security
The encryption is always on and cannot be turned off. This prevents any access to the drive without authentication. Keys for encryption are generated within the drive and never leave.
Lower cost of ownership (TCO)
No need for complex infrastructure to manage encryption keys and no modifications to the operating system, applications or tools. This allows companies to have a lower overhead compared to software encryption.
Take advantages of TCG Opal 2.0
Kingston's UV500 compatibility with the major TCG Opal ISVs (Independent Software Vendors) such as, WinMagic Symantec, MacAfee, Sophos and others enables manageability and simplified deployment.
Features includes:
User assignment to specific systems and user administration allowing user access revocation and password resets
Policy based drive security enforcement with a seamless user experience
Asset management of systems and assigned users; whether through Active Directory Integration or otherwise
Revert utility enables the administrator/ security officer to quickly erase and wipe target computer boot disk, effectively resetting it back to its factory settings.
Learn more about self-encrypting drives