Team Vitality annuncia una partnership pluriennale con Kingston FURY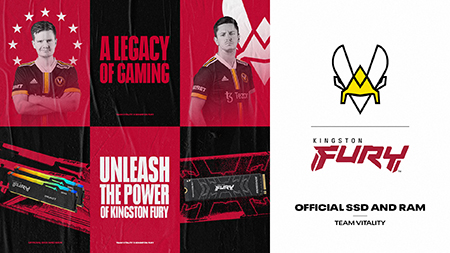 Tutti i giocatori e i sistemi di gioco del Team Vitality saranno dotati di SSD e RAM Kingston FURY per aiutare le squadre a raggiungere le massime prestazioni.
La partnership prevede contenuti esclusivi per i canali social incentrati sui giocatori di CS:GO del Team Vitality, famosi in tutto il mondo. I fan potranno partecipare a lotterie digitali e ottenere premi esclusivi.
Milano, 7 settembre 20220 - Kingston FURY, la divisione gaming di Kingston Technology Company, Inc. leader mondiale nei prodotti di memoria e nelle soluzioni tecnologiche, è orgogliosa di annunciare una partnership europea pluriennale con il Team Vitality, organizzazione globale leader nel settore degli esports. Nell'ambito della partnership, i giocatori di fama mondiale del Team Vitality riceveranno i migliori SSD e RAM del mercato per migliorare l'allenamento e le prestazioni.
L'offerta di prodotti di memoria leader del settore si estende a tutte le postazioni gioco del Team Vitality, comprese quelle presenti nei centri V.Hive, Stade de France e nella sede di Berlino. Inoltre, il marchio Kingston FURY beneficerà di visibilità sui canali social del Team Vitality, con particolare attenzione al roster di CS:GO, composto da alcuni dei migliori giocatori al mondo, tra cui il due volte HLTV Best Player in The World Mathieu "ZywOo" Herbaut. Grazie alla partnership, i fan avranno anche la possibilità di partecipare a lotterie digitali.
Questa è solo l'ultima di una lunga serie di partnership per il Team Vitality, che punta a collaborare con i marchi endemici più iconici per far sì che i suoi giocatori dispongano delle migliori attrezzature per ottenere prestazioni di alto livello.
"Kingston è orgogliosa di annunciare questa sponsorship con il Team Vitality, primo club francese di esports, che dal 2013 ha fatto molta strada fino a diventare una delle principali organizzazioni di esports in Europa", ha dichiarato Robert Allen, Marketing Director, Kingston EMEA. "Siamo felici di poter far parte della squadra e, con i nostri upgrade ad alte prestazioni di DRAM e SSD installati presso l'headquarter V.Hive, non vediamo l'ora di consentire ai giocatori di tutto il mondo di scatenare tutta la loro potenza in competizioni di alto livello. Kingston è al centro degli esports da vent'anni, e questa partnership porta avanti il nostro impegno nei confronti di fan e giocatori".
"È un vero piacere poter collaborare con un brand che ha una così ricca tradizione nel mondo degli esports", ha dichiarato Nicolas Maurer, CEO e Co-founder del Team Vitality. "Da anni Kingston punta sul proprio hardware di livello per elevare le prestazioni dei team e alzare sempre più l'asticella, non potremmo essere più felici di poter lavorare al suo fianco."
Per maggiori informazioni visita kingston.com.
Kingston è su:
A proposito di Kingston Technology Europe Co LLP.
Kingston Technology Europe Co LLP e Kingston Technology Company, Inc., sono parte dello stesso gruppo aziendale ("Kingston"). Kingston è il più grande produttore indipendente di memorie al mondo. Dai big data, ai notebook e i computer, passando per l'IoT, tra tecnologia smart e wearable, al design-in e alla produzione industriale: Kingston fornisce soluzioni che contribuiscono a migliorare la vita quotidiana, i processi lavorativi e l'intrattenimento. I più grandi produttori di PC al mondo e le più importanti società di cloud-hosting fanno affidamento su Kingston per le proprie esigenze produttive: è la nostra passione ad alimentare la tecnologia utilizzata quotidianamente in tutto il mondo. Ci impegniamo ogni giorno per guardare oltre i nostri prodotti e individuare il quadro generale, con l'obiettivo di soddisfare le esigenze dei nostri clienti e offrire soluzioni in grado di fare la differenza. Per saperne di più su come Kingston Is With You, invitiamo a visitare kingston.com
Nota dell'editore: Per ulteriori informazioni, unità in prova e interviste a livello executive, contattare Debbie Fowler, Kingston Technology Europe Co LLP, Kingston Court, Brooklands Close, Sunbury-on-Thames, TW16 7EP. Le immagini per la stampa sono disponibili nell'area dedicata alla stampa di Kingston qui.
# # #
Kingston e il logo Kingston sono marchi registrati di Kingston Technology Corporation. IronKey è un marchio registrato di Kingston Digital, Inc. Kingston FURY e il logo Kingston FURY sono marchi registrati di Kingston Technology Corporation. Tutti i diritti riservati. Tutti gli altri marchi sono di proprietà dei rispettivi detentori.
Per informazioni alla stampa:
EMEA PR Team
Kingston Technology Europe Co LLP
+44 (0) 1932 738888
[email protected]
Alessia Brugora
LEWIS Communications
+39 02/36531375
[email protected]