SV300S37A - Solid-State Drive SSDNow V300
Firmware Update Rev. 608ABBF0
Part Numbers
SV300S37A/60G, SV300S37A/120G, SV300S37A/240G, SV300S37A/480G
Description:
We have improved the firmware for the SV300S37A drive.
We recommend that you apply this update if the firmware version on your SV300 product label reads "605ABBF1".
For information related to the 608ABBF0 Firmware improvements, please see the "Release Notes" located below. As with any firmware update, we recommend that you back up your data prior to applying the firmware revision.
This 608ABBF0 firmware update is designed for Windows 8.1, 8,7 SP1, Vista SP2 and XP SP3. Your SATA controller must be configured for AHCI mode within the BIOS and you must connect the drive to a native SATA port. Third-party SATA ports are not supported when updating your firmware.
For Windows 8.1, 8, 7 and Vista users, the utility must be run in the OS as "Administrator". The update procedures are included in your download.
Note: If you cannot access your product label, please download and run the toolbox to determine if your drive is running firmware version 605ABBF1. If the toolbox reports that "There are no firmware updates available at this time", it means that your drive does not currently support the 608ABBF0 firmware update.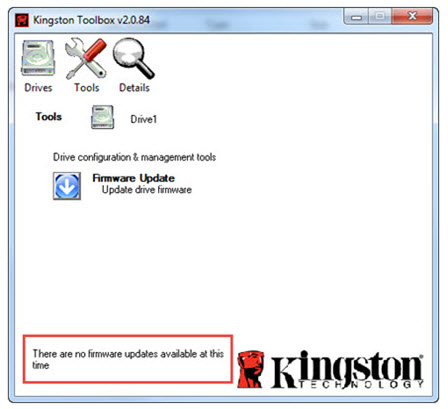 Please contact Technical Support if you have any questions.
FIRMWARE AND FIRMWARE UPDATES ARE PROVIDED AT KINGSTON'S DISCRETION IN CONNECTION WITH CERTAIN KINGSTON PRODUCTS. THE FIRMWARE AND FIRMWARE UPDATES ARE PROVIDED "AS IS" AND ARE USED AT YOUR SOLE RISK WITH NO WARRANTIES, CLAIMS, OR REPRESENTATIONS FROM KINGSTON WHATSOEVER.
KINGSTON EXPRESSLY DISCLAIMS ALL SUCH WARRANTIES OF ANY KIND, WHETHER EXPRESS, IMPLIED OR STATUTORY, WITH RESPECT TO THE FIRMWARE AND FIRMWARE UPDATES INCLUDING, WITHOUT LIMITATION, WARRANTIES OR CONDITIONS OF QUALITY, PERFORMANCE, NON-INFRINGEMENT, MERCHANTABILITY, OR FITNESS FOR USE FOR A PARTICULAR PURPOSE.
KINGSTON DOES NOT REPRESENT OR WARRANT THAT THE FIRMWARE OR FIRMWARE UPDATES WILL ALWAYS BE AVAILABLE, ACCESSIBLE, UNINTERRUPTED, TIMELY, SECURE, ACCURATE, COMPLETE OR ERROR-FREE, INCLUDING BUT NOT LIMITED TO THE ACCURACY OR COMPLETENESS OF ANY INFORMATION, TEXT, GRAPHICS, LINKS OR OTHER ITEMS CONTAINED WITHIN THE FIRMWARE.
NO LICENSE, EXPRESS OR IMPLIED, BY ESTOPPEL OR OTHERWISE, TO ANY INTELLECTUAL PROPERTY RIGHTS IS GRANTED BY ALLOWING THE DOWNLOAD OF ANY FIRMWARE AND / OR FIRMWARE UPDATE, EXCEPT AS PROVIDED HEREIN. BY DOWNLOADING THIS SOFTWARE YOU AGREE TO ACCEPT THE AFOREMENTIONED TERMS.
To begin your download, select the appropriate file from below.
Downloads:
Windows 8.1, 8, 7 SP1, Vista SP2 and XP SP3:
Download Firmware for All Capacities
Firmware Update procedure (Windows)