SKC3007A – Kingston KC300 Security Toolbox
Firmware Rev.600ABBF0
Part Numbers:
SKC3007A/60GB, SKC3007A/120GB, SKC3007A/180GB, SCK3007A/240GB, SKC3007A/480GB
Description
The Kingston KC300 Security Toolbox provides the PSID Revert and the Enable/Disable IEEE1667 (or Microsoft eDrive) features. In order to use this toolbox, your KC300 drives must support TCG Opal 2.0 and IEEE1667. To confirm support, please compare your SSD label to the one below.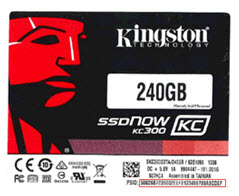 If your label has a PSID Value, this toolbox will be compatible with your drive.
For Windows 8.1, 8 and 7 users, the utility must be run in the OS as "Administrator". The User Guide is included in your download.
KINGSTON KC300 SECURITY TOOLBOX IS PROVIDED AT KINGSTON'S DISCRETION IN CONNECTION WITH CERTAIN KINGSTON PRODUCTS. THE TOOLBOX PROVIDED "AS IS" AND ARE USED AT YOUR SOLE RISK WITH NO WARRANTIES, CLAIMS, OR REPRESENTATIONS FROM KINGSTON WHATSOEVER.

KINGSTON EXPRESSLY DISCLAIMS ALL SUCH WARRANTIES OF ANY KIND, WHETHER EXPRESS, IMPLIED OR STATUTORY, WITH RESPECT TO THE TOOLBOX INCLUDING, WITHOUT LIMITATION, WARRANTIES OR CONDITIONS OF QUALITY, PERFORMANCE, NON-INFRINGEMENT, MERCHANTABILITY, OR FITNESS FOR USE FOR A PARTICULAR PURPOSE.

KINGSTON DOES NOT REPRESENT OR WARRANT THAT THE TOOLBOX WILL ALWAYS BE AVAILABLE, ACCESSIBLE, UNINTERRUPTED, TIMELY, SECURE, ACCURATE, COMPLETE OR ERROR-FREE, INCLUDING BUT NOT LIMITED TO THE ACCURACY OR COMPLETENESS OF ANY INFORMATION, TEXT, GRAPHICS, LINKS OR OTHER ITEMS CONTAINED WITHIN THE FIRMWARE.

NO LICENSE, EXPRESS OR IMPLIED, BY ESTOPPEL OR OTHERWISE, TO ANY INTELLECTUAL PROPERTY RIGHTS IS GRANTED BY ALLOWING THE DOWNLOAD OF ANY FIRMWARE AND/OR FIRMWARE UPDATE, EXCEPT AS PROVIDED HEREIN.

BY DOWNLOADING THIS SOFTWARE YOU AGREE TO ACCEPT THE AFOREMENTIONED TERMS.
To begin your download, select the appropriate file from below.
Downloads:
Kingston KC300 Security Toolbox (Windows)