SV100S2 - Solid-State Drive SSDNow V100 Firmware update (256GB only)
Firmware Update
Part Numbers:
SV100S2/256G, SV100S2/256GZ, SV100S2D/256G, SV100S2D/256GZ, SV100S2/256GBK
Description: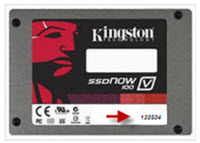 We have discovered a technical issue affecting our SV100S2 drive. Kingston strongly recommends that a firmware update be applied to all SV100S2 drives to prevent possible failure. As with any firmware update, we recommend that you back up your data prior to applying the firmware revision.
Please check your SSDNow for the following number: "120504" (see illustration for location).
If you DO NOT have 120504 on your SSDNow as shown in the illustration, then you need to perform the Firmware Update. If you have 120504 on your SSDNow, then your drive already has the firmware update from the factory, and you DO NOT have to perform this Firmware Update.
License Agreement:
This software uses the FreeDOS kernel, which is distributed under the terms of the GNU GPL. You can download a copy of the source code to the Free DOS kernel that we used or request a copy at the FreeDOS website at http://www.freedos.org.
Open Watcom 1.9. Portions Copyright® 1983-2002 Sybase, Inc. All rights reserved. This file contains Original Code and/or Modifications of Original Code as defined in and that are subject to the Sybase Open Watcom Public License version 1.0 (the "License"). You may not use this file except in compliance with the License. BY USING THIS FILE YOU AGREE TO ALL TERMS AND CONDITIONS OF THE LICENSE. A copy of the License is provided with the Original Code and Modifications, and is also available at www.sybase.com/developer/opensource.
The Original Code and all software distributed under the License are distributed on an "AS IS" basis, WITHOUT WARRANTY OF ANY KIND, EITHER EXPRESS OR IMPLIED, AND SYBASE AND ALL CONTRIBUTORS HEREBY DISCLAIM ALL SUCH WARRANTIES, INCLUDING WITHOUT LIMITATION, ANY WARRANTIES OF MERCHANTABILITY, FITNESS FOR A PARTICULAR PURPOSE, QUIET ENJOYMENT OR NON-INFRINGEMENT. Please see the License for the specific language governing rights and limitations under the License.
This firmware update shall in no way extend or expand the coverage of the original warranty applicable to the product (see Kingston's Product Warranties at Kingston Warranties).
By downloading the ISO file below you hereby accept the licenses set forth above.
Downloads:
Download Firmware Update
Firmware Update Procedure PDF
Release notes PDF
Please note: Kingston is not responsible for damages or data loss arising from the download and/or installation of the SSD firmware.