The world of mobile computing has quickly been putting more and more data at our fingertips. Movies, photos, documents, and all the ways one can manipulate data, are available to us 24/7. Mobile devices are increasingly capable of handling information in a variety of ways, like photo editing and document printing, so as users we need access to more of our data while on the go.
Must-Have Devices
So far, advances in technology haven't come quite far enough to offer a single device that does absolutely everything. It's tough to conceptualize what that could even look like. All our gadgets have their limitations, so most of us have a few we cannot do without.
Smartphone:
The quintessential communications technology. We use them for calling, texting, emailing, social networking, working, and playing games. For many people, they've replaced the basic point-and-shoot camera in everyday situations. Whether you have an iPhone, an Android phone, or any other type, chances are good that grabbing your smartphone on the way out the door is as important to you as making sure you have your wallet and keys.
Tablet:
Not everyone is a tablet user--yet. Some tech experts believe tablets may begin replacing smartphones for the average user in the next few years. Tablet functionality has caught up to provide most of the capabilities of a computer, so tablet users find themselves using their PCs less often. Tablets like the iPad and the Samsung Galaxy Tab are lighter than laptops and have larger screens than smartphones, so they're the perfect in-between device for viewing movies and reading while traveling.
This device is in a class all by itself. It optimizes data sharing in a compact, wireless way, giving you unlimited access to all your files without fear of mobile data overages. The MobileLite Wireless offers multiple functions as a card reader or phone and tablet battery charger as well. You can also use it to stream movies, share music, photos, and documents between SD cards, USB drives, or an external drive and three connected devices, simultaneously.
eBook Reader:
Over the last decade or so, eBook readers have evolved from simple displays of text to full-blown mobile devices that can, in some cases, compete with many tablets on the market. The two most popular brands in the space--the Kindle and the Nook--have even developed actual tablets that, while they do still allow you to read books and magazines, also perform a multitude of other functions. Whether you like to read novels while traveling, or require a lot of reading material for your job, an eBook reader can lighten your load quite a bit.
Laptop:
No longer a novelty but a necessity, laptops are actually quickly becoming passe in favor of tablets. Still, the built-in keyboard and greater on-board storage make the laptop a good choice for on-the-go productivity. Now lighter and thinner than ever before, they're also more portable than ever, not to mention more affordable. One laptop, the Google Chromebook, is a stripped down laptop that runs Google Apps, giving you the essentials you need to be productive, while saving you both weight and money.
Even casual mobile users have their favorite mobile devices. When you explore what your electronic devices are really capable of doing for you, their value increases. Wireless connectivity and apps expand the possibilities for media consumption and data manipulation, making mobile devices indispensable for life as we know it.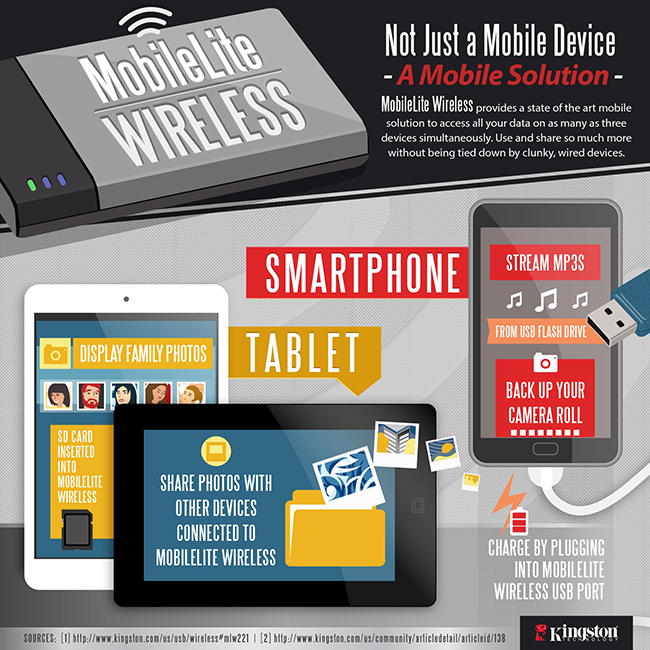 Please use the HTML code below to embed this graphic

Please use the above code unaltered or include a citation of this site as the original source.