Kingston IronKey D300 Encrypted USB Drive Named Winner of Two 2018 "Govies" Awards
Platinum Winner for Encryption
Gold Winner for Cyber Defense Solutions
Awards from 'Security Today' and 'GovSec' Publications Recognize Outstanding Government Security Products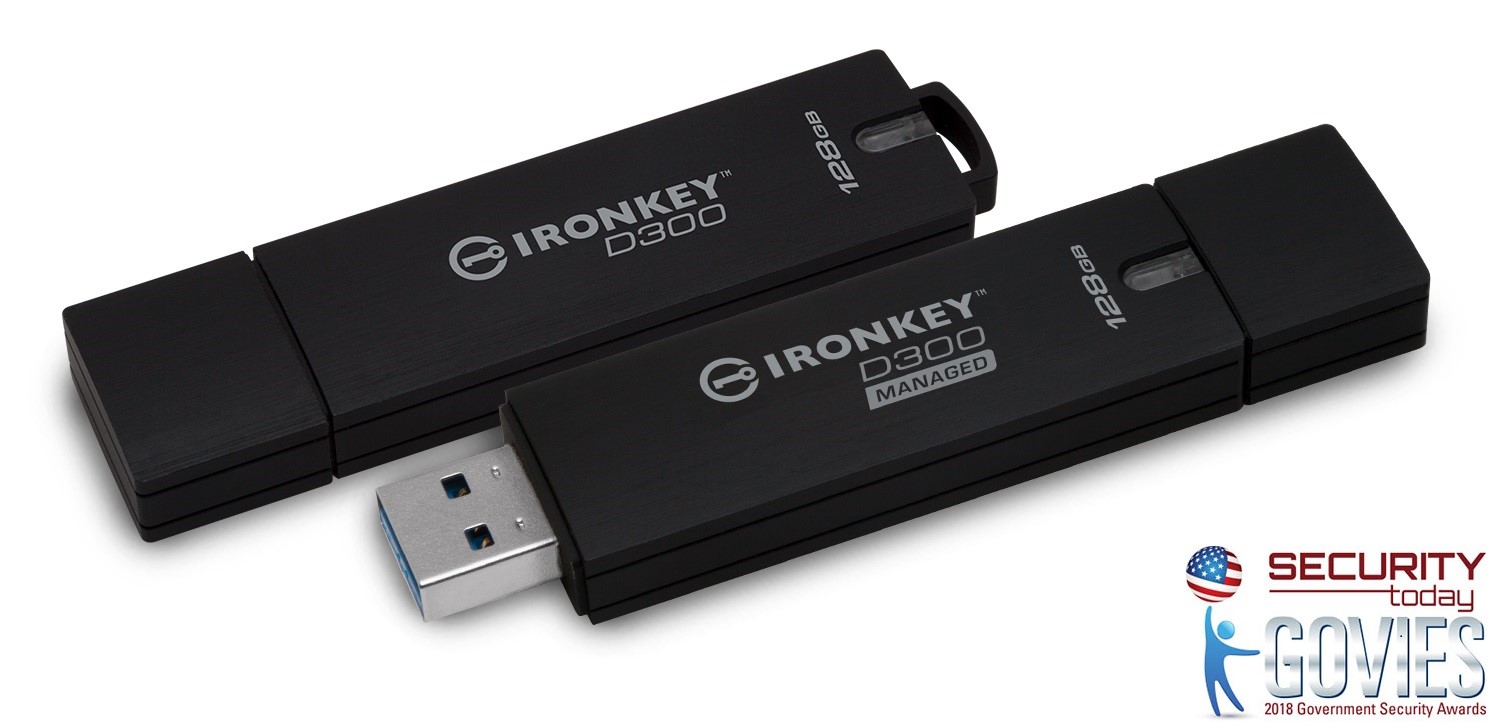 Fountain Valley, CA – April 12, 2018 − Kingston Digital, Inc., the Flash memory affiliate of Kingston Technology Company, Inc., a world leader in memory products and technology solutions, announced that its IronKey™ D300 encrypted USB Flash drive has been named a 2018 'Govies' Government Security Awards Platinum and Gold winner in the Encryption and Cyber Defense Solutions categories respectively. The awards, sponsored by the publications Security Today and GovSec, honor outstanding government security products.
"IronKey D300 is widely recognized as one of the best solutions for protecting sensitive data," said Richard Kanadjian, encrypted USB business manager, Kingston. "It is very momentous to have experts in the security industry honor and recognize Kingston with a 'Govies' award. With a growing remote/mobile workforce at all levels of government transporting confidential data and information, it is imperative that risks and threats from loss, theft, or stolen digital devices are mitigated. The data protection provided by IronKey D300 drive is top notch in doing that."
Kingston IronKey D300 is customizable, easy to use, and available in both standard and managed models. It is FIPS 140-2 Level 3 certified and uses 256-bit AES hardware-based encryption in XTS mode. For added peace of mind, the drive uses digitally signed firmware making it immune to BadUSB. It enforces complex password protection to prevent unauthorized access. Additionally, encryption and decryption is 100-percent self-contained ─ done on the drive with no trace left on the host system. IronKey D300 reformats after 10 invalid password attempts to protect against brute force attacks. The drive stands up to even the most demanding situations as it is manufactured with a zinc casing and a tamper-evident epoxy seal to provide a physical layer of security, and is also waterproof up to 4 feet (conforming to IEC60529 IXP8).
IronKey D300 allows for fast data transfers with its SuperSpeed USB 3.0 technology so users don't have to compromise speed for security. With Kingston's 30 years of expertise in quality technology solutions along with the latest in NAND Flash memory and controller technology, users can be confident in a solution that will be around for years to come. IronKey D300 was also previously recognized with a Platinum 'ASTORS' Award for "Best Data Storage Security Solution" at the 2017 'ASTORS' Homeland Security Awards program, sponsored by digital publisher American Security Today.The award-winning IronKey D300 USB drive is available in 4GB to 128GB capacities and is backed by a five-year warranty, free technical support and legendary Kingston reliability. For more information visit www.kingston.com.
IronKey from Kingston
Kingston has been the proud owner of the entire USB technology and assets of IronKey, a long-time leader in encrypted USB Flash drive solutions, since early 2016. Kingston continues the IronKey brand and tradition of delivering FIPS 140-2 Level 3 certified solutions to customers who need the highest level of encryption and security. With the IronKey brand, Kingston continues its commitment as the global leader in trusted encrypted USB solutions for mobile data.
About Kingston Technology Company, Inc.
Kingston Digital, Inc. ("KDI") is the Flash memory affiliate of Kingston Technology Company, Inc., the world's largest independent manufacturer of memory products. Established in 2008, KDI is headquartered in Fountain Valley, California, USA. For more information, please visit kingston.com
Editor's Note:
For additional information, evaluation units or executive interviews, please contact David Leong, Kingston Technology Company, Inc., 17600 Newhope Street, Fountain Valley, CA USA 92708, 714-438-1817 (Voice). Press images can be found in Kingston's press room at kingston.com/company/press/
Kingston and the Kingston logo are registered trademarks of Kingston Technology Corporation. All rights reserved. All other marks may be the property of their respective titleholders.