VMworld 2018: Kingston Supercharges Data Center Transactions in SQL with the Power of U.2 SSDs, Server DRAM
High-performance NVMe SSDs Greatly Increase Transactions Per Second and Lowers Latency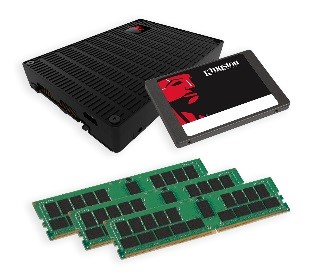 Las Vegas, Nev. & Fountain Valley, Calif. – August 22, 2018 – Kingston Digital, Inc., the Flash memory affiliate of Kingston Technology Company, Inc., a world leader in memory products and technology solutions, today announced it will demonstrate its upcoming NVMe SSD solutions for data centers as well as the latest in server memory at VMworld® 2018 (booth #2313). As an industry leader for over 30 years, Kingston's end-to-end data performance solutions powering virtualized environments will be on full display.
Kingston will showcase a performance demo based on its upcoming DC1000M U.2 2.5″ NVMe SSD on an ESXi 6.5 server running virtual machines using Windows Server 2016 and SQL Server 2016. It will demonstrate massive increases in SQL data warehouse transactions per second (TPS) performance using one DC1000M. Along with increased TPS, recent advances in NVMe storage technology also allow critical low-latency advantages in SQL environments.
The demo will also be populated with the latest DDR4 server DRAM modules. Kingston Server Premier memory features a locked BOM (Bill of Materials) to ensure a consistent brand and revision of DRAM. All Kingston server memory undergoes rigorous, patented dynamic burn-in testing to simulate heavy server workloads designed to root out early-life failure at the factory before they're installed in the data center. Organizations have relied on Kingston server memory to increase allocation in virtual machines to maximize existing hardware and deliver faster response time for apps that sit in memory, all the while lowering total cost of ownership.
"For over 30 years, the world's top data centers have implemented Kingston server DRAM to speed up in-memory applications, run virtualized environments and serve as the foundation for Cloud infrastructure," said Ariel Perez, SSD business manager, Kingston. "We stand ready to power the next generation of mainstream servers with U.2 NVMe SSD solutions to eliminate many of the data bottlenecks that have traditionally been storage-bound. The combination of NVMe SSD solutions and Server Premier DRAM make Kingston one of the industry's most complete providers of end-to-end data performance solutions."
Kingston will be at booth 2313 during VMworld. For more information visit kingston.com or contact [email protected] to set up an appointment during the show.
About Kingston Technology Company, Inc.
Kingston Digital, Inc. ("KDI") is the Flash memory affiliate of Kingston Technology Company, Inc., the world's largest independent manufacturer of memory products. Established in 2008, KDI is headquartered in Fountain Valley, California, USA. For more information, please visit kingston.com
Editor's Note:
For additional information, evaluation units or executive interviews, please contact David Leong, Kingston Technology Company, Inc., 17600 Newhope Street, Fountain Valley, CA USA 92708, 714-438-1817 (Voice). Press images can be found in Kingston's press room at kingston.com/company/press/
Kingston and the Kingston logo are registered trademarks of Kingston Technology Corporation. All rights reserved. All other marks may be the property of their respective titleholders.