How Kingston Operates in a Socially and Environmentally Responsible manner
Overview
Kingston Technology Company, Inc. is committed to operating our business in a manner that is Socially and Environmentally Responsible (SER). Over the past 24 years, Kingston has maintained a basic philosophy that centers on the core values of the company: respect, loyalty, integrity, flexibility and adaptability, investing in our employees and having fun at work in the company of friends. These core values also influence our obligations to make a positive difference in the communities in which we operate and to help protect the environment.
Social Responsibility
Kingston's employees are our most important resource. We provide a work environment that is respectful, safe and healthy at all locations utilizing the OHSAS 18001 management system, for which certification was obtained in June 2004.
In the area of safety, we have implemented accident prevention steps such as risk assessments, occupational health and safety education, and emergency drills at all sites. On the health side, Kingston provides a variety of wellness programs for our employees. These include health education from health-care professionals, fitness programs, and wellness newsletters.
Kingston is committed to upholding a culture where diversity is valued and respected. We treat all individuals fairly, in all aspects of employment, without regard to race, color, national origin, ancestry, religion, sex, gender identity, pregnancy, marital status, actual or perceived sexual orientation, age, physical or mental disability, family care status, veteran status or medical condition, including genetic characteristics. Kingston prohibits discrimination and harassment of individuals on any of the bases listed above, or any other legally-protected basis.
Kingston is dedicated to protecting the rights of employees worldwide, in both policy and practice. We operate in full compliance with applicable local labor laws, including those regarding minimum age, working hours, overtime, wages and benefits, at all Kingston facilities. Employment is voluntary and employees are able to associate freely.
Conflict Minerals
Kingston shares the concern of our customers that the sources of minerals used in the manufacture of our product are not considered "conflict minerals." Conflict minerals pertain to 3TG minerals (tin, tantalum, tungsten and gold) that are mined in countries where conditions of armed conflict and human rights abuses are reported to be occurring. Our commitment to address this concern includes a two-step approach.
Our commitment to address this concern includes a two step approach.
Kingston has taken steps to ensure that the purchased materials used in our manufacturing process that contain minerals are free of conflict minerals. Kingston has written assurances from all of its suppliers of metal alloy materials used in the manufacturing process of Kingston products that the sources of such minerals and raw materials are not from conflict-affected and high-risk areas or other regions in violation of human rights.
Kingston is also working with our supply chain to ensure that the purchased components used in our products are free of materials containing conflict minerals. We are asking that our suppliers support our concern and we are involved in an ongoing effort to collect the necessary supporting data and applicable evidence as part of our due diligence.
Environmental Responsibility
Kingston is doing its part to be a responsible environmental steward. In June 2004, Kingston obtained certification to ISO 14001 which provides guidance in environmental issues. We are operating in ways that are more sensitive to the environment in order to reduce our carbon footprint and disclose our efforts through our participation in the Carbon Disclosure Project. As energy use in our facilities makes up the majority of our carbon footprint, we are researching ways to reduce our energy usage.
We are increasing our recycling efforts at all sites, striving to recycle the majority of the waste generated by our operations. Kingston is the first memory manufacturer to launch an electronics recycling program for our customers in the U.S.
Kingston is making smart and responsible choices in packaging by using more eco-friendly materials and looking for ways to increase our use of post-consumer recycled materials.
Community
Kingston understands its role as a Global Citizen and strives to create positive change whenever we can. With the help of our employees, Kingston participates in endeavors to improve the communities in which we operate, such as contributing to local area food banks, co-sponsoring charitable drives, and donating educational equipment to schools.
Carbon Disclosure Project
CDP, otherwise known as the Carbon Disclosure Project, runs the global disclosure system that enables companies, cities, states and regions to measure and manage their environmental impacts.
CDP's supply chain program enables suppliers to submit climate, forests, and water security data to their customers.
In recognizing the tangible business benefits of disclosure and action, companies are raising their ambitions and taking meaningful steps to address climate change, deforestation and water security. This ensures their long-term sustainability and profitability, as well as equipping them to respond to regulatory and policy changes
Each year Kingston works to improve the data and scope of information from our facilities worldwide.
Climate Change
Total Global Scope 1 Emissions by location CY2019
| Location | Scope 1 emissions (metric tons C02e) |
| --- | --- |
| United States of America | 12.92 |
| Taiwan, Greater China | 0.01 |
| China | 133.8 |
| United Kingdom of Great Britain and Northern Ireland | 0.79 |
Total Global Scope 2 Emissions by location CY2019
| Location | Scope 2, location-based (metric tons C02e) | Purchased and consumed electricity, heat, steam or cooling (MWh) | Purchased and consumed low-carbon electricity, heat, steam or cooling accounted in market-based approach (MWh) |
| --- | --- | --- | --- |
| United States of America | 1627.28 | 7273.64 | 0 |
| Taiwan, Greater China | 16313.41 | 21280.3 | 0 |
| China | 11196.66 | 15186.74 | 0 |
| United Kingdom of Great Britain and Northern Ireland | 552.81 | 1295.89 | 0 |
UK Modern Slavery Act, Australia Modern Slavery Act and the California Transparency in Supply Chains Act (SB657)
Financial Year ending 31st December 2020
Kingston Technology Corporation and its sites worldwide (herein collectively referred to as "Kingston") is a US based company which develops memory products and gaming peripherals. Kingston has global manufacturing sites and a worldwide market presence. As such, we are not only obligated, but committed to supporting human rights around the world. We do not tolerate any form of modern slavery which includes forced, bonded (including debt bondage) or indentured labor, involuntary prison labor, slavery, or trafficking of persons by any Kingston supplier or for any other purpose.
This statement is made pursuant to the requirements of the UK Modern Slavery Act, Australia Modern Slavery Act, and the California Transparency in Supply Chains Act (SB657) and constitutes Kingston's modern slavery statement for the financial year ending 31st of December 2020.
Kingston's commitment to prohibit modern slavery is part of a larger effort of aligning Kingston's standards to our core values: encourage business integrity and ethical conduct, and supply chain transparency and accountability. We are committed to social and environmental responsibility and to making a strong and positive contribution to the societies and people served by the company and its employees. We are dedicated to delivering products through a business and supply chain that respects human rights and the dignity of labor, adhering to laws that prohibit modern slavery in Kingston's direct operations or supply chain.
Structure, business, and supply chain
Kingston is a leading manufacturer in DRAM and memory modules, flash memory products such as SSDs, USBs, SD Cards and readers, and gaming peripheral products such as HyperX gaming products and accessories. Kingston generates revenues primarily from sales of products, OEM services and contract manufacturing. Our efforts to combat modern slavery require us to be reliant on our excellent relationships with our global suppliers that manufacture or provide services on our behalf.
Kingston works with many suppliers worldwide that support our business and operations, including hardware manufacturing and our extended workforce. As such, Kingston takes measures to ensure that we partner with our suppliers to facilitate them in establishing policies and practices to minimize the risk of modern slavery developing in their supply chains.
Internal management, accountability, and programs
Kingston's Corporate Social Responsibility (CSR) program involves a team of worldwide Kingston employees who are dedicated to ensure ethical practice, including labor and human rights, health and safety of employees and work practices, consideration of environmental impact, and supporting our global communities. To honor our commitments to ethical practice, annual meetings including all Kingston global sites are held to set expectations, update all sites on CSR efforts, and to discuss short-term and long-term plans. Through these annual global meetings, Kingston continues to engage top management, corporate executives, and employees to ensure Kingston's efforts against modern slavery and explore improvements on the overall CSR program.
Policies addressing ethical conduct and prevention of modern slavery
Kingston has a Code of Conduct that outlines expectations for Kingston employees and our suppliers alike. The Kingston Code of Conduct sets up policies intended to protect the health, safety and treatment of workers, which prohibits any form of modern slavery. Kingston employees, contractors and suppliers are expected to abide to our Code of Conduct to maintain internal accountability standards and procedures for any parties failing to meet Kingston's company standards regarding modern slavery. Any employee that is suspected of breaching Kingston's Code of Conduct or associated policies will be subject to a disciplinary procedure and may result in termination of employment. Kingston maintains a corporate-wide accountability and grievance mechanisms (e.g., the Kingston Hotline), which are available to both employees and external parties. Kingston will investigate any reports of human trafficking and slavery in its business or supply chain and take appropriate action to remedy any issues it identifies as a result. No such reports have been received during the last financial year.
For additional information, please refer to the Kingston Code of Conduct
Risk Assessment and Due Diligence
Kingston assesses modern slavery risk in our supply chains regularly. In 2019, we expanded our supplier risk assessments by creating a supplier rating system which identifies different aspects of evaluating suppliers, including components specific to modern slavery. We have also updated our CSR risk assessment program, outlining ways to identify risks of modern slavery, and reexamined our risk assessment scoring system. The updated CSR risk assessment program includes review and analysis to identify higher-risk areas of Kingston business based on external reports and standards as well as federal and local laws by country or region. Elements that are considered when doing a risk assessment include, but are not limited to, the industries Kingston serves, work type, geography and supplier credibility.
The combination of the supplier rating system and CSR risk assessment program allows us to identify higher risk vendors in our supply chain and take a variety of measures to reduce that risk and achieve appropriate due diligence.
One of the ways Kingston has exercised its due diligence has been through our continued membership with the Responsible Business Alliance (RBA). As a member of RBA, we are committed to progressively aligning our own policies and operations with the provisions of the RBA Code of Conduct and to support and encourage our suppliers and sub-contractors to do the same. RBA membership requires, among other things, that members take a firm stance against modern slavery.
Additionally, membership includes not only Kingston's plausibility of being audited by other RBA participants, but the ability to request RBA Audits of our suppliers. RBA audits are conducted to assess suppliers' policies and practices with regards to modern slavery risks and controls, and their management and oversight of their own suppliers. RBA Audits are completed by RBA-certified third-party entities.
Audit findings that indicate potential risks of modern slavery are addressed. Suppliers are expected to conduct root cause analysis and develop a plan to address any issues found during an audit within RBA-specified timelines, including any findings associated with modern slavery. Closure audits confirm findings have been resolved; and if a supplier does not remediate an issue, Kingston may reduce or suspend business with the supplier.
Kingston has also increased the number of supplier audits that we conduct annually, to aid in the improvement of our supply chain's awareness and efforts to reduce risks of modern slavery. Supplier Audits are conducted by Kingston using RBA audit guidelines and follow the RBA's structure for corrective action and follow-up. Follow-up audits help to keep suppliers accountable and ensure continual improvement in their operations to help combat modern slavery. Kingston assesses and schedules supplier audits regularly on an annual basis.
Due to the COVID-19 pandemic, Kingston was not able to conduct in-person supplier audits as planned due to travel bans. When it is safe to do so, we plan to resume in-person supplier audits.
Additionally to in-person supplier audits, Kingston asks our suppliers to complete self-assessment questionnaires (SAQ) about their working conditions and CSR program. SAQs allow us to identify labor-related red flags that may impact our decision to continue or alter a current relationship with a supplier.
Kingston firmly believes that our responsibility to due diligence includes transparency. Our commitment to corporate social responsibility, including our efforts against modern slavery, can be found in our annual Global Reporting Initiative (GRI) Report. The GRI Report provides detailed information about Kingston as an organization though its financial and operational activities and is published on our website and accessible to the public. Transparently reporting through the GRI platform holds Kingston accountable and demonstrates Kingston's commitment to prevent modern slavery.
Training
In 2020, the CSR Team has been making global efforts to re-train all Kingston employees worldwide on Kingston's CSR program and the new objectives and targets we hope to accomplish as an international company. Training on Kingston's Code of Conduct reinforces the expectation that our employees, extended workforce, and suppliers follow applicable laws and report concerns of illegal or unethical activity.
Top management, corporate executives, and employees who have direct responsibility for supply chain management receive training on a regular basis on the elements of SB 657, the UK Modern Slavery Act, and the Australia Modern Slavery Act to help them identify warning signs for modern slavery within the supply chain. Currently with the challenges of the pandemic, the CSR team has created online training to make it more accessible to relevant parties.
Assessing and Reporting on Effectiveness
As previously mentioned, Kingston schedules RBA audits, as well as conducting our own audits of suppliers and their facilities. These audits include in-depth facility tours, meetings with management, on-site worker interviews, document reviews, and assessments of related areas such as dormitories, cafeterias, wastewater treatment facilities, and warehouses. The audit protocol is designed to assess higher-risk suppliers' performance in areas covered by our Code of Conduct, including modern slavery risk.
As mentioned above, both RBA and Kingston audit findings are closely followed up on to ensure effectiveness of corrective actions.
Kingston recognizes the limitations of audits. As such, in 2018, the CSR Team conducted a materiality assessment of Kingston employees worldwide to engage them and get a better understanding of where their knowledge and recognition of modern slavery lies. This materiality assessment is what helped us complete our GRI Report. There are plans to extend these assessments to reflect a wider range of Kingston's internal and external stakeholders and gather data to assess how we can continue to combat modern slavery and minimize it within Kingston's supply chain.
Additionally, Kingston sends our Code of Conduct and acknowledgment letters to direct suppliers to certify that materials incorporated into Kingston products comply with the laws regarding modern slavery of the country or countries in which they are doing business. Kingston considers each supplier's conduct in relation to this Code when awarding and/or renewing business with the supplier.
Reporting Concerns or Raising Issues Related to Modern Slavery
Kingston has a whistle-blower policy and offers multiple reporting options to employees, extended workers and suppliers alike, including access to such reporting tools in multiple languages that give workers and suppliers an option to report concerns anonymously. We promote these reporting options through our internal policies, communications and trainings. Our Code of Conduct also prohibits retaliation for raising concerns. In 2020, we have added additional hotlines to cover more regions, including EMEA and expanded APAC.
If any concerns about modern slavery are raised through the hotline or other reporting channels, Kingston's CSR Team coordinates with appropriate stakeholders to investigate and address the issue. As previously noted, actions taken could potentially reduce or suspend business with the supplier, or terminate business with the supplier altogether.
Kingston's Commitments to Mitigate Modern Slavery
In addition to the measures described above, we have established and maintained a Conflict Minerals Program as part of our commitment to help end modern slavery. Kingston is a member of the Responsible Minerals Initiative (RMI), which has a variety of programs addressing modern slavery and child labor. Being a member of the RMI allows Kingston to manage and maintain a supply chain that does not harvest precious minerals (currently tin, tungsten, tantalum, gold and cobalt) from mines that finance modern slavery and child labor.
Kingston is committed to manufacturing safe products that comply with all regulatory and environmental product compliance regulations. As such, obtaining regulatory and environmental certifications require thorough factory inspections which allows Kingston to identify any modern slavery risks relating to a particular supplier.
Vice President of Administration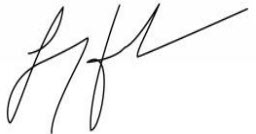 Lawrence Gonzales
Dated: 11/3/2020
The delay of Kingston's modern slavery statement was a result of the COVID-19 pandemic and its' effects on Kingston business operations.
California Prop 65 Warning
California Proposition 65, originally known as the "The Safe Drinking Water and Toxic Enforcement Act of 1986," is an initiative passed by voters to address concerns about toxic chemicals. California's Proposition 65 entitles California consumers to special warnings for products that contain chemicals known to the state of California to cause cancer and birth defects or other reproductive harm if those chemicals are above certain threshold levels. A Proposition 65 warning does not mean a product is in violation of any product-safety standards or requirements.
Therefore, for certain products, Kingston is providing the following warning on certain product packaging:
WARNING: This product contains a chemical known to the State of California to cause cancer, birth defects, or other reproductive harm.
This information provided on this page was sourced from the California Office of Environmental Health Hazard Assessment (OEHHA) website, and was updated on November 4, 2015. Please refer to OEHHA's website for the most up-to-date information regarding this topic. See http://www.oehha.ca.gov/prop65.html
RBA (formerly EICC)
Kingston Technology Company, Inc. announced that it has joined the Responsible Business Alliance (RBA) (formerly Electronic Industry Citizenship Coalition (EICC)) and became an Applicant Member on April 15, 2016.
RBA is the largest coalition of electronics companies committed to supporting the rights and well-being of workers and communities affected by the global electronics supply chain. Kingston recognizes and respects the collective approach of the RBA and what its members intend to achieve together. As an Applicant Member of RBA, Kingston is committed to support the vision and mission of the RBA:
RBA Vision
A global electronics industry that creates sustainable value for workers, the environment and business.
RBA Mission
Members, suppliers and stakeholders collaborate to improve working and environmental conditions through leading standards and practices.
The RBA Code of Conduct is a set of standards on social, environmental and ethical issues in the electronics industry supply chain, and as an Applicant Member of RBA, Kingston is committed to progressively align its own operations with the provisions of the RBA Code of Conduct and to support and encourage its own first-tier suppliers to do the same. Kingston is committed to using RBA tools with a continuous improvement approach to implement the RBA Code of Conduct in its operations and in the supply chain.
For more information about RBA and how members collaborate for a sustainable electronics industry, please visit http://www.responsiblebusiness.org/