CES 2021: Kingston presenta la nuova linea di SSD NVMe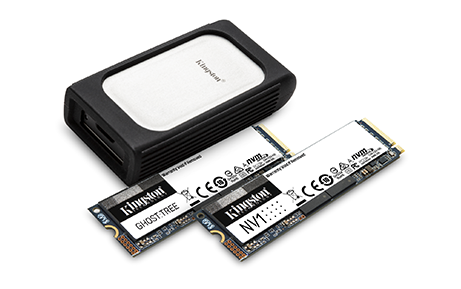 Drive di prossima generazione NVMe PCIe 4.0
SSD esterno USB 3.2 Gen 2 completamente nuovo
Milano, 11 gennaio 2021 – Kingston Digital Europe CO LLP, società affiliata di memorie Flash di Kingston Technology Company, Inc., leader mondiale nella produzione di memorie e nell'offerta di soluzioni tecnologiche, annuncia oggi in occasione del CES® 2021, un'edizione completamente digitale, la propria roadmap di SSD NVMe per i prossimi mesi. Nonostante una modalità e un formato completamente nuovo, Kingston offrirà ai partecipanti dell'evento un'esperienza del tutto virtuale che permetterà loro di osservare da vicino le caratteristiche tecniche e le potenzialità dei nuovi SSD leader del settore.
Kingston è pronta ad impegnarsi per mantenere la propria posizione di leadership nel mercato degli SSD grazie a nuovi drive consumer e unità NVMe U.2 specifiche per data center. Le nuove offerte includono il primo SSD PCIe NVMe Gen 4.0 di Kingston e un SSD esterno USB 3.2:
Ghost Tree:

Il prossimo drive ad alte prestazioni di Gen 4.0 è ideale per i content creator e chiunque cerchi potenza nelle prestazioni. Con il nome in codice "Ghost Tree", Kingston punta a velocità di lettura e scrittura di 7000 MB/s, estendendo il drive PCIe Gen 4.0 x4 a 8 canali fino al limite, con capacità che vanno da 1TB a 4TB.

Serie NV:

L'ultimo SSD Gen 3.0 x4 con capacità fino a 2 TB è l'unità entry-level ideale per gli utenti NVMe.

XS2000

: La nuovissima unità esterna USB 3.2 Gen 2 x2 con capacità da 500GB a 2TB è perfetta per essere utilizzata come memoria aggiuntiva per foto, video e tantissimi altri file. L'interfaccia USB Type-C®1 consente trasferimenti di dati superveloci fino a 2000 MB/s.

DC1500M

: L'SSD per data center 1500M è un aggiornamento del precedente CD1000M, con anche l'aggiunta del supporto per multi-namespaces. L'SSD NVMe U.2 è progettato per supportare un'ampia gamma di carichi di lavoro ad alta intensità di dati, tra cui il cloud computing, il web hosting e le infrastrutture virtuali.
"Ora che il CES si terrà online, l'opportunità di connetterci con community tecnologiche sia nuove che esistenti di tutto il mondo è ancora più grande", ha dichiarato Tony Hollingsbee, SSD Business Manager di Kingston EMEA. "Il CES è il momento migliore per condividere i progetti futuri di Kingston, e siamo molto entusiasti quest'anno di lanciare i nostri primi SSD NVMe Gen 4.0, insieme ad una nuova un'unità esterna. In fatto di unità NVMe, saremo in grado di coprire ogni segmento e rispondere ad ogni esigenza, dagli utenti consumer ai professionisti, fino ai data center".
1 USB Type-C® and USB-C® are registered trademarks of USB Implementers Forum.
Kingston è su:
A proposito di Kingston Technology Europe Co LLP.
Kingston Technology Europe Co LLP e Kingston Technology Company, Inc., sono parte dello stesso gruppo aziendale ("Kingston"). Kingston è il più grande produttore indipendente di memorie al mondo. Dai big data, ai notebook e i computer, passando per l'IoT, tra tecnologia smart e wearable, al design-in e alla produzione industriale: Kingston fornisce soluzioni che contribuiscono a migliorare la vita quotidiana, i processi lavorativi e l'intrattenimento. I più grandi produttori di PC al mondo e le più importanti società di cloud-hosting fanno affidamento su Kingston per le proprie esigenze produttive: è la nostra passione ad alimentare la tecnologia utilizzata quotidianamente in tutto il mondo. Ci impegniamo ogni giorno per guardare oltre i nostri prodotti e individuare il quadro generale, con l'obiettivo di soddisfare le esigenze dei nostri clienti e offrire soluzioni in grado di fare la differenza. Per saperne di più su come Kingston Is With You, invitiamo a visitare kingston.com
Nota dell'editore: Per ulteriori informazioni, unità in prova e interviste a livello executive, contattare Debbie Fowler, Kingston Technology Europe Co LLP, Kingston Court, Brooklands Close, Sunbury-on-Thames, TW16 7EP. Le immagini per la stampa sono disponibili nell'area dedicata alla stampa di Kingston qui.
# # #
Kingston e il logo Kingston sono marchi registrati di Kingston Technology Corporation. IronKey è un marchio registrato di Kingston Digital, Inc. Kingston FURY e il logo Kingston FURY sono marchi registrati di Kingston Technology Corporation. Tutti i diritti riservati. Tutti gli altri marchi sono di proprietà dei rispettivi detentori.
Per informazioni alla stampa:
EMEA PR Team
Kingston Technology Europe Co LLP
+44 (0) 1932 738888
[email protected]
Alessia Brugora
LEWIS Communications
+39 02/36531375
[email protected]