Kingston Technology si conferma primo fornitore di moduli DRAM per il 2020
Kingston si classifica n.1 per fatturato con una quota di mercato pari al 78,02%
Il leader delle memorie pronto per il lancio delle RAM DDR5
Milano, 4 ottobre 2021 – Kingston Technology Europe Co LLP, affiliata di Kingston Technology Company, Inc., leader mondiale nella produzione di memorie e nell'offerta di soluzioni tecnologiche, annuncia di essere il primo fornitore di terze parti di moduli DRAM a livello mondiale per fatturato, secondo le ultime classifiche stilate dagli analisti di TrendForce (precedentemente DRAMeXchange). Kingston mantiene il primo posto con una quota di mercato stimata del 78,02% su un fatturato di 13,2 miliardi di dollari. Secondo TrendForce, Kingston ha aumentato il proprio fatturato del 2,03% anno su anno ed è il 18° anno consecutivo che l'azienda mantiene stabilmente il gradino più alto del podio.
Kingston conserva il proprio vantaggio competitivo lavorando a stretto contatto con fornitori, partner e clienti per restare flessibile e adattarsi alle mutevoli esigenze e alle condizioni di un mercato in continua evoluzione. Un elemento rilevante per il successo di Kingston è la sua filosofia di lavoro riassunta dal payoff 'Kingston Is With You'. In qualità di azienda leader tra i fornitori di chip DRAM a livello mondiale, Kingston ha visto precocemente maturare l'esigenza di memorie in determinati mercati e ha adottato un approccio proattivo per garantirsi i componenti addizionali necessari per la potenziale richiesta, acquistando l'inventario di componenti dai magazzini delle aziende partner. All'inizio del 2020 si pensava che il settore della tecnologia avrebbe rallentato per effetto della pandemia. Ma Kingston ha saputo farsi trovare preparata per quei segmenti che avrebbero richiesto più DRAM: il lavoro da casa su PC, la memoria per i giochi e le server farm a cui serviva più memoria per la massiccia crescita di acquisti e attività online.
Il grafico qui sotto mostra i primi 10 fornitori di moduli DRAM secondo TrendForce: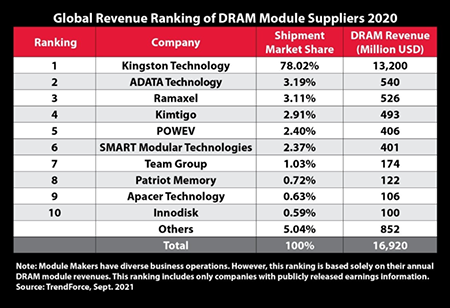 Inoltre, una nuova generazione di DDR è all'orizzonte: Kingston è pronto a offrire ai clienti l'incredibile velocità delle RAM DDR5. La stretta collaborazione tra Kingston e Intel aiuterà a garantire soluzioni collettive con i prodotti più recenti di Intel. "I risultati di TrendForce riflettono la continua crescita e la flessibilità dell'azienda nell'affrontare un clima di business decisamente sfidante" ha commentato Bernd Dombrowsky, VP Sales & Marketing di Kingston EMEA. "La nostra posizione di leadership nel mercato ci permette di collaborare a stretto contatto con i nostri partner e vendor, offrendo anche la corretta formazione sulle tecnologie più all'avanguardia, come per esempio nel prossimo lancio delle memorie DDR5."
Kingston è su:
A proposito di Kingston Technology Europe Co LLP.
Kingston Technology Europe Co LLP e Kingston Technology Company, Inc., sono parte dello stesso gruppo aziendale ("Kingston"). Kingston è il più grande produttore indipendente di memorie al mondo. Dai big data, ai notebook e i computer, passando per l'IoT, tra tecnologia smart e wearable, al design-in e alla produzione industriale: Kingston fornisce soluzioni che contribuiscono a migliorare la vita quotidiana, i processi lavorativi e l'intrattenimento. I più grandi produttori di PC al mondo e le più importanti società di cloud-hosting fanno affidamento su Kingston per le proprie esigenze produttive: è la nostra passione ad alimentare la tecnologia utilizzata quotidianamente in tutto il mondo. Ci impegniamo ogni giorno per guardare oltre i nostri prodotti e individuare il quadro generale, con l'obiettivo di soddisfare le esigenze dei nostri clienti e offrire soluzioni in grado di fare la differenza. Per saperne di più su come Kingston Is With You, invitiamo a visitare kingston.com
Nota dell'editore: Per ulteriori informazioni, unità in prova e interviste a livello executive, contattare Debbie Fowler, Kingston Technology Europe Co LLP, Kingston Court, Brooklands Close, Sunbury-on-Thames, TW16 7EP. Le immagini per la stampa sono disponibili nell'area dedicata alla stampa di Kingston qui.
# # #
Kingston e il logo Kingston sono marchi registrati di Kingston Technology Corporation. IronKey è un marchio registrato di Kingston Digital, Inc. Kingston FURY e il logo Kingston FURY sono marchi registrati di Kingston Technology Corporation. Tutti i diritti riservati. Tutti gli altri marchi sono di proprietà dei rispettivi detentori.
Per informazioni alla stampa:
EMEA PR Team
Kingston Technology Europe Co LLP
+44 (0) 1932 738888
[email protected]
Alessia Brugora
LEWIS Communications
+39 02/36531375
[email protected]