Kingston Technology Remains Top DRAM Module Supplier for 2021
Rankings by Revenue Places Kingston No. 1 with 78.7% Market Share
Recognized World Leader for 19 Consecutive Years

Sunbury-on-Thames, UK – September 6, 2022 – Kingston Technology Europe Co LLP, an affiliate of Kingston Technology Company, Inc., a world leader in memory products and technology solutions, today announced it has been ranked top third-party DRAM module supplier in the world, according to the latest rankings by revenue from analyst firm TrendForce (formerly DRAMeXchange). Kingston retains its number 1 position with an estimated 78.7% market share on $14.2B (USD) revenue. TrendForce states that Kingston increased revenue by 8% YoY marking the 19th consecutive year that Kingston has held the top spot.
According to the report, the world's top five memory module houses accounted for 90% of total sales in 2021 with Kingston holding nearly 80% of that market. As one of the leading buyers of DRAM chips in the world, Kingston provides a highly customised production model which has led to continuous growth in shipment scale and drove increased revenue by 8%. TrendForce states that pandemic-induced lifestyle changes and the demand for distance learning grew in the past two years, driving the growth of DRAM module shipments. Kingston took the approach to be prepared for those segments. Kingston's success is largely contributed to their working attitude of 'Kingston Is With You' which solidifies the dominant force the company holds among consumers and organisations alike looking to upgrade new and existing systems.
The chart below shows the top 10 DRAM module suppliers rankings provided by TrendForce: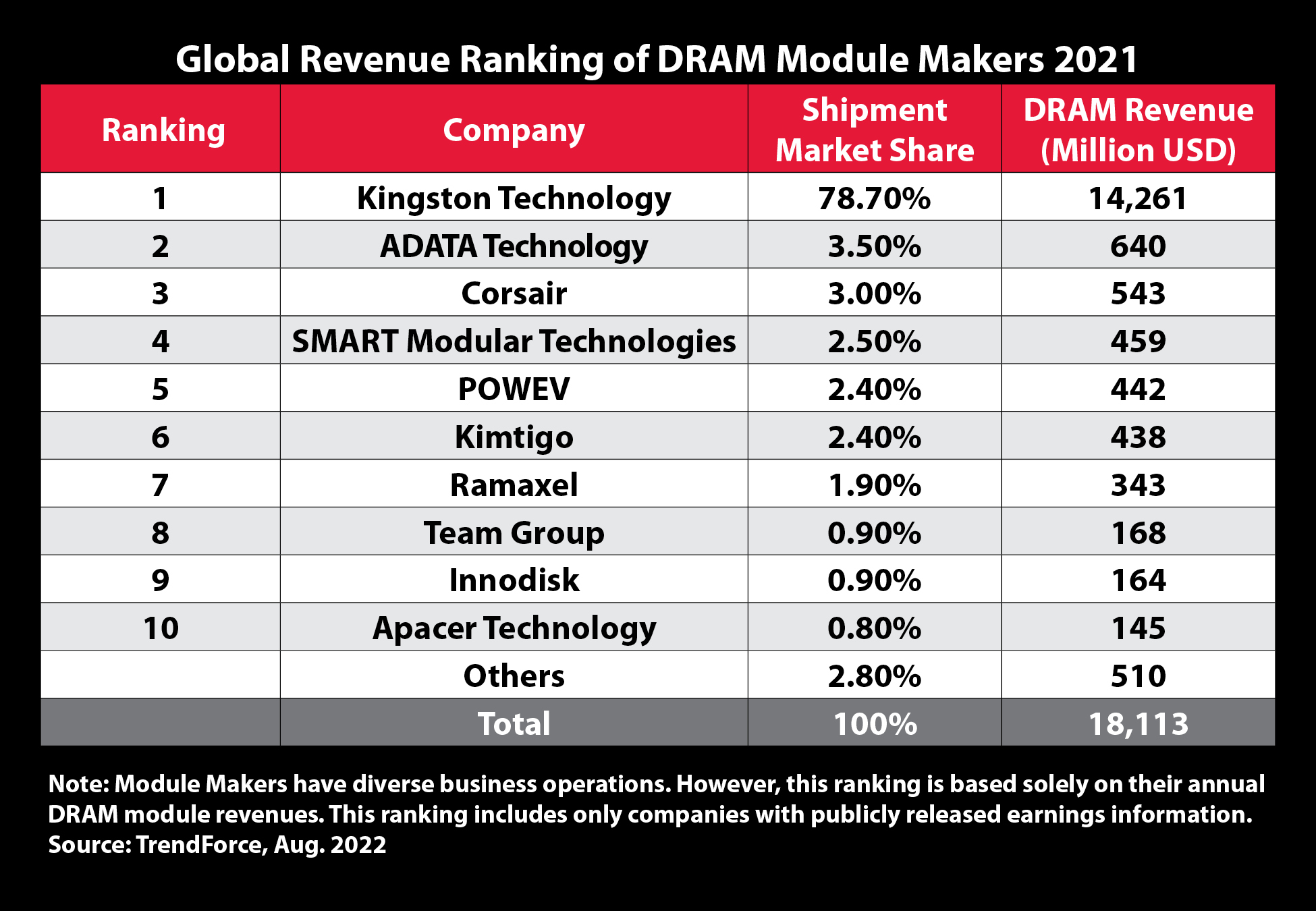 Most recently, Kingston announced the addition of AMD EXPO certified DDR5 modules to the high performance Kingston FURY Beast line of memory. As the industry transitions from current DDR4 memory modules to DDR5, Kingston enhanced its production infrastructure to readily support forthcoming platforms. As the industry leader, Kingston began shipping DDR5 modules last year and became the first third-party supplier to receive Intel Platform Validation on its DDR5 UDIMMS. This marked the first and arguably the most important milestone validating compatibility between Kingston DDR5 memory solutions and Intel platforms utilizing DDR5.

"The 2021 findings from TrendForce reflect the company's continued growth and flexibility to tackle another challenging business year" said Iwona Zalewska DRAM business manager, Kingston EMEA. "As we celebrate our 35 year anniversary, it reinforces our company's strength, position and importance in the industry as we maintain the top spot for the 19th consecutive year. Kingston Is With You and we stand ready to support high volume demands."

For more information visit kingston.com.
Kingston can be found on:
YouTube: http://www.youtube.com/kingstontechmemory
Facebook: http://www.facebook.com/kingstontechnologyeurope
Twitter: http://twitter.com/kingstontech
LinkedIn: http://www.linkedin.com/company/kingston
Instagram: https://www.instagram.com/kingstontechnology
About Kingston Technology Company, Inc.
Kingston Technology Company, Inc. is the world's largest independent manufacturer of memory products. Kingston designs, manufactures and distributes memory products for desktops, laptops, servers, printers, and Flash memory products for PDAs, mobile phones, digital cameras, and MP3 players. Through its global network of subsidiaries and affiliates, Kingston has manufacturing facilities in California, Taiwan, China and sales representatives in the United States, Europe, Russia, Turkey, Ukraine, Australia, India, Taiwan, China, and Latin America. For more information, please call +44 (0)1932 738888 or visit www.kingston.com
Kingston and the Kingston logo are registered trademarks of Kingston Technology Corporation. All rights reserved. All other marks may be the property of their respective titleholders.
Media Relations:
Kingston PR Team
Kingston Technology Europe Co LLP
+44 (0) 1932 738888
[email protected]
Maggie Zaboura
Zaboura Consultancy Ltd
+44 (0) 2072973371
[email protected]