Kingston Technology Among "America's Largest Private Companies" by Forbes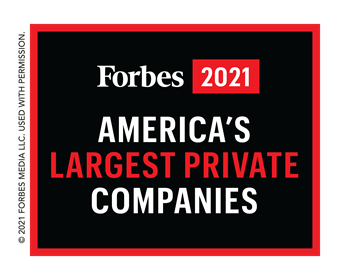 Fountain Valley, CA – December 6, 2021
– Kingston Technology Company, Inc., a world leader in memory products and technology solutions, today announced it has been ranked
#19
on the 2021 list of
America's Largest Private Companies
by Forbes®. Additionally in the report, Kingston leads the pack in the industry rank of
'Technology Hardware & Equipment'.
Through the last few years of uncertain market conditions, Kingston continues to offer top-tier sales support and access to in-house product experts and engineers who embody the
"Kingston Is With You"
working attitude that has led to three successful decades of reliability and support for its customers. Kingston maintains its competitive advantage by working closely with its suppliers, partners, and customers to remain flexible and adapt to ever-changing needs.
In 2021, Kingston was ranked as the
#1 supplier of third-party DRAM
for the 18th consecutive year, named
#1 supplier of Channel SSD
, and has been the #1 supplier of hardware-encrypted USB drives since 2016, including
Kingston's IronKey line
. Collectively, with the introduction of its new performance and enthusiast gaming line,
Kingston FURY™
, has led to an exceptional year for Kingston. The company was also a leader in the launch of DDR5 products, being the
first third-party supplier
to receive Intel® Platform Validation.
"This Forbes standing is a great honor and we're proud of the growth we have achieved over a difficult and challenging period for businesses around the world. It could not have been accomplished without strong support from our vendors, resellers and distribution partners," said Craig Tilmont, senior director of marketing, Kingston. "Thank you to all that have shared in our success. Our enthusiasm is one of a start-up team but backed by years of experience. This is an exciting time for Kingston and new technology, especially with our upcoming 35-year anniversary in 2022."
For more information visit kingston.com.
About Kingston Technology Company, Inc.
From big data, to laptops and PCs, to IoT-based devices like smart and wearable technology, to design-in and contract manufacturing, Kingston helps deliver the solutions used to live, work and play. The world's largest PC makers and cloud-hosting companies depend on Kingston for their manufacturing needs, and our passion fuels the technology the world uses every day. We strive beyond our products to see the bigger picture, to meet the needs of our customers and offer solutions that make a difference. To learn more about how Kingston Is With You, visit kingston.com.
Editor's Note: For additional information, evaluation units or executive interviews, please contact PR Team, Kingston Technology Company, Inc. 17600 Newhope Street, Fountain Valley, CA USA 92708, 714-435-2600 (Voice). Press images can be found in Kingston's press room kingston.com/company/press/
# # #
Kingston and Kingston logo are registered trademarks of Kingston Technology Corporation. IronKey is a registered trademark of Kingston Digital, Inc. Kingston FURY and the Kingston FURY logo are trademarks of Kingston Technology Corporation. All rights reserved. All trademarks are the property of their respective owners.