Cine Gear Expo 2018: Kingston Demonstrates High-performance Data Storage Solutions for Faster Real-time Ingestion, Processing and Editing of Ultra-high Resolution Media Workloads
Kingston's PCIe NVMe SSDs Dramatically Accelerate Capture-to-Lab Pipelines for Modern 4K Streaming Studios, Traditional Episodic Television and Feature Films
Significant Reduction of Additional Crew on-the-clock After Wrap
Connection Agnostic for Future Pipeline Needs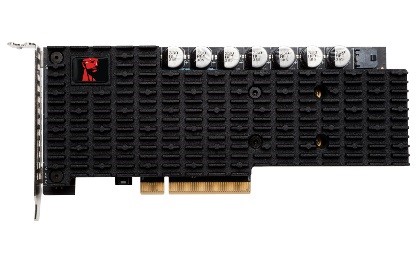 Los Angeles and Fountain Valley, CA – May 30, 2018 – Kingston Digital, Inc., the Flash memory affiliate of Kingston Technology Company, Inc., a world leader in memory products and technology solutions, today announced its DCP1000 and forthcoming DCU1000 PCIe NVMe solid-state solutions are helping drive needed efficiencies, increased productivity and reducing time-to-market for 4K+ episodic television, feature films, boutique commercial companies, virtual production applications and more. Recently deployed in a studio production environment, Kingston PCIe NVMe gave production, postproduction and media and entertainment (M&E) professionals the ability to work in 4K-to-8K capture workloads in real time, with an 8x sustained IO improvements in media review and ingest; 6X reductions in lab ingestion to SAN, and, an overall reduction in on-set idle time via maximum throughput to VFX, HDR or postproduction. Kingston will demonstrate the supercharged data performance of its powerful DCP1000 and DCU1000 solid-state products at the 2018 Cine Gear Expo this week (booth B101) at The Studios at Paramount.
"With modern content creators capturing across multiple formats such as Dolby Vision™, digital 65mm, VistaVision, and VRX Arrays, an urgency for a connection-proofed, high-performance solution is paramount," said Dane Brehm, ICG DIT and Production Technologist. "Deploying both the Kingston DCP1000 and DCU1000 PCIe NVMe SSDs allowed our production to significantly increase on set-to-lab productivity of our original 6K camera RAW files to the lab for color processing, QC, LTO archive and upload. Kingston's ultra-fast PCIe NVMe SSD storage solutions are designed for extreme data performance for mission-critical and performance-demanding ultra high-resolution raw media and VFX workloads. Both DCP1000 and DCU1000 are helping drive needed efficiencies in the virtual production space, increasing productivity and reducing time to market for high-quality multimedia content with significant creative and technical improvements for modern productions.
"Kingston PCIe NVMe solid-state solutions allow M&E professionals to achieve the increased quality of 4K+ with an eye toward the budgetary realities of episodic television production," said Ariel Perez, SSD business manager, Kingston. "Deploying Kingston solutions in these demanding motion picture and VR/AR production environments ensure that data performance limitations no longer dictate the creative and technical potential of any final video content."
After nine weeks of principal photography on a just completed TV production (yet to be aired), deployment of Kingston's PCIe NVMe solid state solutions resulted in:
8x increase in camera / sound data transfer speeds (3700MB/s vs 250MB/s)
More efficient use of digital image technician (DIT) time for other duties (color, video)
6x reduction in video lab ingestion time (1.6TB in 12 minutes)
Significant end-of-day reduction in video transfer times for DIT (1.25TB in 5 minutes)
Development of the technology for future application
Decrease in additional department idle time at wrap waiting for DIT to complete
Enable editing 8K raw media workstations
For more information visit www.kingston.com or stop by Kingston's booth (B101) at Cine Gear.
About Kingston Technology Company, Inc.
Kingston Digital, Inc. ("KDI") is the Flash memory affiliate of Kingston Technology Company, Inc., the world's largest independent manufacturer of memory products. Established in 2008, KDI is headquartered in Fountain Valley, California, USA. For more information, please visit kingston.com
Editor's Note:
For additional information, evaluation units or executive interviews, please contact David Leong, Kingston Technology Company, Inc., 17600 Newhope Street, Fountain Valley, CA USA 92708, 714-438-1817 (Voice). Press images can be found in Kingston's press room at kingston.com/company/press/
Kingston and the Kingston logo are registered trademarks of Kingston Technology Corporation. All rights reserved. All other marks may be the property of their respective titleholders.