Intel® Xeon® Scalable Platform (Purley) server microarchitecture for DDR4 servers

The Intel® Scalable Platform (Purley) features a new server microarchitecture that supports the next generation of DDR4 server memory. The Purley platform significantly increases memory bandwidth performance by incorporating an additional two memory channels over the previous quad-channel Grantley platform. With a total of six memory channels available to the processor, and an increase in memory speed, memory-bound applications will experience a dramatic boost in performance.
Targeted Uses
The higher core counts and increased memory bandwidth, combined with higher density support for greater total memory capacity, make the Purley platform ideal for the following applications:
High-Performance Computing (HPC)
Artificial Intelligence (AI)
Virtualization
Cloud
Big Data
In-Memory Database
Unified Networking
Business Intelligence
Virtual Desktop Infrastructure
Analytics
At A Glance
Xeon SP (Skylake)
Supports up to 1.5TB (Terabytes) of memory per processor1
Supports DDR4 Registered and Load Reduced DIMMs up to 2666MT/s, equivalent to transfer rates of 21.3GB/s per module
Memory Architecture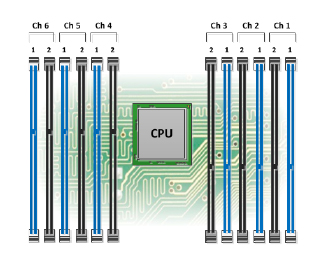 Memory architecture is based on Six Channels arranged in Two Banks per processor. Each processor can be configured with 6 or 12 modules, depending on the motherboard layout, to achieve the maximum aggregated memory bandwidth.
6 memory channels per processor
Up to 2 DIMMs per channel
Up to 12 DIMMs per processor
Xeon SP (Skylake)
DDR4-2666
Registered DIMM (RDIMM, 3DS RDIMM)
Load Reduced DIMM (LRDIMM, 3DS LRDIMM)
Model Type
(No Mixing in a Server)
DIMM per Channel
1 DPC
DIMM per Channel
2 DPC
Registered DIMM (RDIMM, 3DS)
2666
Load Reduced DIMM (LRDIMM, 3DS)