DDR4 Memory Standard
DDR4 Overview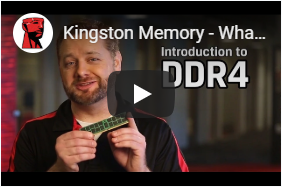 With DDR3 reaching its limits in a world that demands higher performance and increased bandwidth, a new generation of DDR SDRAM has arrived. DDR4 delivers higher performance, higher DIMM capacities, improved data integrity and lower power consumption.
Achieving more than 2Gbps per pin and consuming less power than DDR3L (DDR3 Low Voltage), DDR4 provides up to 50 percent increased performance and bandwidth while decreasing the power consumption of your overall computing environment. This represents a significant improvement over previous memory technologies and a power savings up to 40 percent
In addition to optimized performance and greener, low-cost computing, DDR4 also provides cyclic redundancy checks (CRC) for improved data reliability, on-chip parity detection for integrity verification of 'command and address' transfers over a link, enhanced signal integrity and other robust RAS features.