Team Vitality announces multi-year partnership with Kingston FURY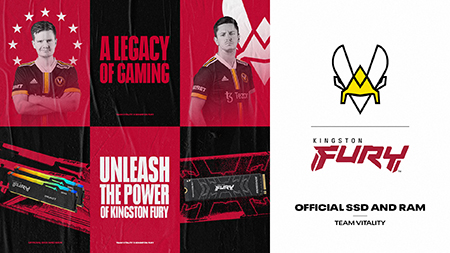 All players and Team Vitality's facilities will be equipped with Kingston FURY SSD and RAM to help the teams achieve peak performance
The partnership includes exclusive social media content focusing on Team Vitality's world-renowned CS:GO players where fans will be able to take part in digital sweepstakes and obtain exclusive rewards
Sunbury-on-Thames, UK – September 7th, 2022 – Kingston FURY, the gaming division of Kingston Technology Company, Inc., a world leader in memory products and technology solutions, is pleased to announce a multi-year European partnership with leading global esports organisation Team Vitality. As part of the partnership, Team Vitality's world-renowned players will be provided with the best SSD and RAM on the market to enhance training and performance.
This offering of leading memory products extends to all of Team Vitality's facilities, including V.Hive, Stade de France, and Berlin performance centers. In addition, the Kingston FURY brand will benefit from digital visibility on Team Vitality's social media channels, with a focus on the CS:GO roster which is made up of some of the best players in the world, including two-time HLTV Best Player in The World Mathieu "ZywOo" Herbaut. Fans will also be able to participate in digital sweepstakes throughout the partnership.
This is just the latest in a long line of partnerships for Team Vitality which sees them aim to partner with the most iconic endemic brands in order for their players to have the best equipment to enable peak performance.
"Kingston is proud to announce this sponsorship with Team Vitality, as the first French esports club, they have come a long way since 2013 to be one of the leading esports organisations in Europe." said Robert Allen, Marketing Director, Kingston EMEA. "We look forward to being part of the team for many years to come, and with our performance DRAM and SSD upgrades in the V.Hive we look forward to enabling players to unleash their FURY in high level competition. Kingston has been at the heart of esports for the last two decades and this partnership is part of Kingston stepping up our game for fans and gamers from across the globe."
"It's a real pleasure to be able to partner with a brand that has such a rich heritage in esports," said Nicolas Maurer, CEO and Co-founder of Team Vitality. "For years now, Kingston has leveraged its leading hardware to elevate the performance of teams to the next level and we couldn't be happier about having the opportunity to work alongside them."
For more information visit kingston.com.
Kingston can be found on:
About Kingston Technology Europe Co LLP
Kingston Technology Europe Co LLP and Kingston Technology Company, Inc., are part of the same corporate group ("Kingston"). Kingston is the world's largest independent manufacturer of memory products. From big data, to laptops and PCs, to IoT-based devices like smart and wearable technology, to design-in and contract manufacturing, Kingston helps deliver the solutions used to live, work and play. The world's largest PC makers and cloud-hosting companies depend on Kingston for their manufacturing needs, and our passion fuels the technology the world uses every day. We strive beyond our products to see the bigger picture, to meet the needs of our customers and offer solutions that make a difference. To learn more about how Kingston Is With You, visit Kingston.com.
Editor's Note: For additional information, evaluation units or executive interviews information please contact Debbie Fowler, Kingston Technology Europe Co LLP, Kingston Court, Brooklands Close, Sunbury-on-Thames, TW16 7EP. Press images can be found in Kingston's press room.
# # #
Kingston and the Kingston logo are registered trademarks of Kingston Technology Corporation. IronKey is a registered trademark of Kingston Digital, Inc. Kingston FURY and the Kingston FURY logo are trademarks of Kingston Technology Corporation. All rights reserved. All trademarks are the property of their respective owners. 
Media Relations:
EMEA PR Team
Kingston Technology Europe Co LLP
+44 (0) 1932 738888
[email protected]
Maggie Zaboura
Zaboura Consultancy Ltd
+44 (0) 2072973371
[email protected]