Kingston IronKey Vault Privacy 80 External SSD 2022 'ASTORS' Awards Winner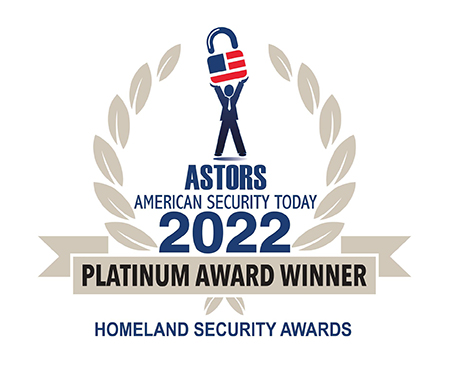 American Security Today 'ASTORS' Homeland Security Awards
Three Time Platinum Award Winner:
Best Encryption Solution
Best Data Storage Security Solution
Best Secure Data Storage for Military and Government
Sunbury-on-Thames, UK – December 7, 2022 – Kingston Digital Europe Co LLP, a flash memory affiliate of Kingston Technology Company, Inc., a world leader in memory products and technology solutions, announced today that it has received three Platinum awards in the 2022 'ASTORS' Homeland Security Awards Program. The company's first innovative OS-independent hardware-encrypted external SSD with touch screen for data protection, Kingston® IronKey™ Vault Privacy 80ES (VP80ES) wins Best Encryption Solution, Best Data Storage Security Solution, and Best Secure Data Storage for Military and Government.
American Security Today's Annual 'ASTORS' Awards is the preeminent U.S. Homeland Security Awards Program, and today in its Seventh Year, continues to honor distinguished government and vendor solutions that deliver enhanced value, benefit, and intelligence to end-users in a variety of government, homeland security, enterprise, and public safety vertical markets.
"'ASTORS' nominations are evaluated on their technical innovation, interoperability, specific impact within the category, overall impact to the industry, relatability to other industry technologies, and application feasibility outside of the industry," said AST's Editorial Director Tammy Waitt.
"We are thrilled that once again, a Kingston IronKey drive received Platinum awards from respected American Security Today, this time for VP80ES, our first ever hardware-encrypted external SSD with an intuitive color touch screen," said Oscar Escayola Kaloudis, Flash Business Manager, Kingston EMEA. "As work environments continue to change, the need to safeguard company and personal confidential data from breaches, theft, and loss continues to grow. We take pride in this recognition that our IronKey line of product will deliver best-in-class storage product security."
Using IronKey VP80ES is as innate as unlocking a smartphone and doing simple drag & drop file transfers. Featuring FIPS 197 certification with XTS-AES 256-bit encryption, VP80ES is designed to protect data while also being user-friendly. The drive is ideal to safeguard against Brute Force attacks and BadUSB with digitally signed firmware, while its military-grade security measures make it greatly superior over using the internet and Cloud services for securing important company information. VP80ES offers additional features like Multi-Password (Admin/User) Option that allow Admin to choose between numeric PIN or Passphrase modes, set Configurable Password Rules, or enable extended security options like maximum number of shared password attempts, minimum password length, alphanumeric password rules, auto-timeout, randomise touch screen layout and Secure-Erase to ensure maximum protection of important files.
When it comes to security, don't let your data be a soft target. The award-winning IronKey VP80ES is available in 480GB, 960GB, and 1920GB capacities and is backed by a limited three-year warranty, free technical support and legendary Kingston reliability. For more information, please visit http://www.kingston.com/ironkey.
Kingston can be found on:
About Kingston Digital Europe Co LLP
Kingston Digital Europe Co LLP and Kingston Technology Company, Inc., are part of the same corporate group ("Kingston"). Kingston is the world's largest independent manufacturer of memory products. From big data, to laptops and PCs, to IoT-based devices like smart and wearable technology, to design-in and contract manufacturing, Kingston helps deliver solutions used to live, work and play. The world's largest PC makers and cloud-hosting companies depend on Kingston for their manufacturing needs, and our passion fuels technology used by the world every day. We strive beyond our products to see the bigger picture, to meet the needs of our customers and offer solutions that make a difference. To learn more about how Kingston Is With You, visit Kingston.com.
Editor's Note: For additional information, evaluation units or executive interviews information, please contact Debbie Fowler, Kingston Digital Europe Co LLP, Kingston Court, Brooklands Close, Sunbury-on-Thames, TW16 7EP. Press images can be found in Kingston's press room here.
Kingston and the Kingston logo are registered trademarks of Kingston Technology Corporation. IronKey is a registered trademark of Kingston Digital, Inc. Kingston FURY and the Kingston FURY logo are trademarks of Kingston Technology Corporation. All rights reserved. All trademarks are the property of their respective owners.
Media Relations:
Maggie Zaboura
Zaboura
[email protected]
07990 527 278