Kingston Technology Ships 100 Million Overclockable Modules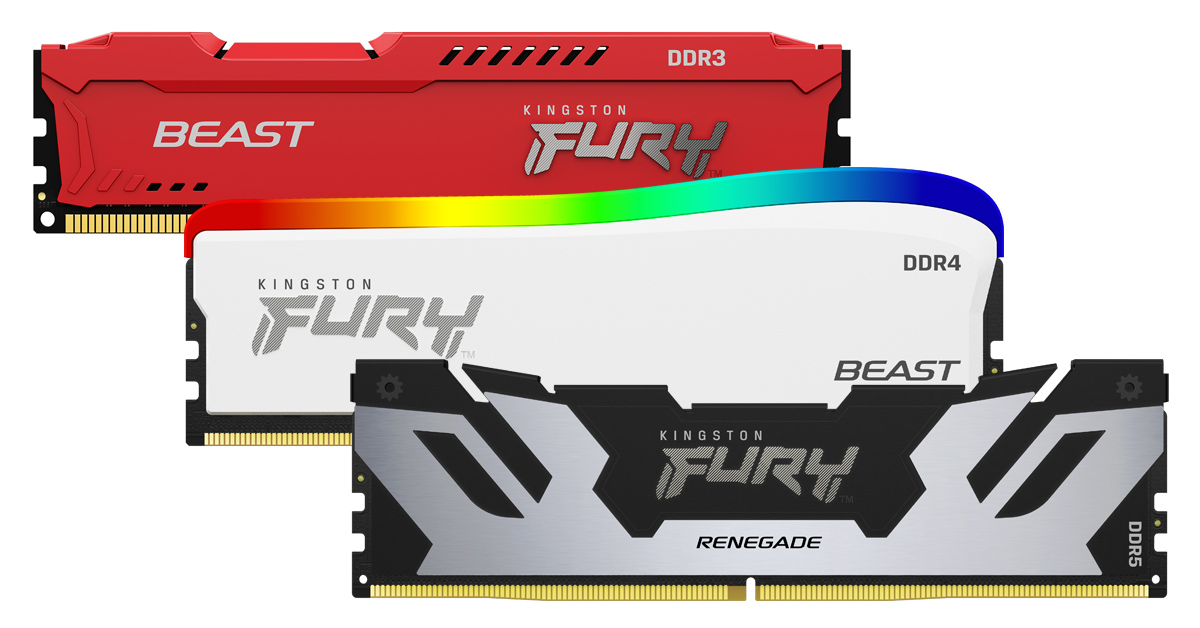 Sunbury-on-Thames, UK – April, 17th 2023 – Kingston FURY, the high-performance division of Kingston Technology Company, Inc., a world leader in memory products and technology solutions, today announced it has shipped more than 100 million overclockable modules. In 2002, Kingston entered the enthusiast market with a line of high-performance memory modules under the Kingston HyperX name. Over the next 19 years Kingston grew the HyperX name within the enthusiast and gaming space until its sale of the peripheral line to HP in 2021. Continuing the incredible success of the HyperX memory products, Kingston rebranded its high-performance component lines into Kingston FURY, investing resources and knowledge from its core business to create the next generation of enthusiast products. Today, the engineering expertise behind the numerous overclocking records and awards continues into a new era of leading-edge, high-performance, enthusiast and gaming solutions.
Since its inception, Kingston has taken pride in its testing innovations and industry-leading product reliability. Back in 2005, Kingston was granted a U.S patent on a proprietary, first of its kind, dynamic burn-in tester. This ensured the utmost reliability in server memory modules used in the world's largest data centers. Earlier this year, Kingston broadened its portfolio by adding the Kingston FURY Renegade Pro DDR5 RDIMM which provides overclockable server-class DDR5 memory for creators, engineers, and data science professionals to meet the requirements of the latest applications. Its award-winning line of Kingston FURY Beast DDR5 and Renegade DDR5 memory modules also received a makeover with the introduction of white heat spreaders to empower users to choose the color that best fits their individual style.
"Kingston is committed to designing and manufacturing products that offer consumers unparalleled style and performance," said Iwona Zalewska, DRAM business manager, Kingston EMEA. "This milestone demonstrates Kingston's market leadership, supporting users in every segment of our industry by providing world renowned customer service and the highest quality products, with reliability to match. It takes an entire team to achieve this feat and we thank and share this accomplishment with our partners, vendors, and customers."
For more information visit kingston.com.
Kingston can be found on:
About Kingston Technology Europe Co LLP
Kingston Technology Europe Co LLP and Kingston Technology Company, Inc., are part of the same corporate group ("Kingston"). Kingston is the world's largest independent manufacturer of memory products. From big data, to laptops and PCs, to IoT-based devices like smart and wearable technology, to design-in and contract manufacturing, Kingston helps deliver the solutions used to live, work and play. The world's largest PC makers and cloud-hosting companies depend on Kingston for their manufacturing needs, and our passion fuels the technology the world uses every day. We strive beyond our products to see the bigger picture, to meet the needs of our customers and offer solutions that make a difference. To learn more about how Kingston Is With You, visit Kingston.com.
Editor's Note: For additional information, evaluation units or executive interviews information please contact Debbie Fowler, Kingston Technology Europe Co LLP, Kingston Court, Brooklands Close, Sunbury-on-Thames, TW16 7EP. Press images can be found in Kingston's press room.
# # #
Kingston and the Kingston logo are registered trademarks of Kingston Technology Corporation. IronKey is a registered trademark of Kingston Digital, Inc. Kingston FURY and the Kingston FURY logo are trademarks of Kingston Technology Corporation. All rights reserved. All trademarks are the property of their respective owners. 
Media Relations:
EMEA PR Team
Kingston Technology Europe Co LLP
+44 (0) 1932 738888
[email protected]
Maggie Zaboura
Zaboura Consultancy Ltd
+44 (0) 2072973371
[email protected]