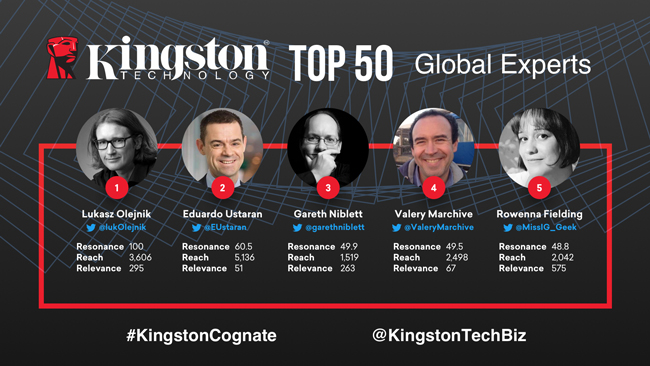 Since 1987, Kingston has been known for the highest quality memory and storage products available. We recognise the important role memory and storage play in computing productivity and take the necessary steps to guarantee a reliable product.
Superior quality, guaranteed compatibility, convenience, stability and reliability are just a few of the values we instil in our products and staff.
For years, Kingston Technology has been at the forefront of the technological movement and we recognise the worth of those outside our organisation.
We have been working tirelessly with a number of people to identify and highlight a list of the very top individuals in a number of technology-related topics, ranging from GDPR to AI, Cybersecurity, High-Performance Computing and more.
Those we have recognised have, do and will continue to spark conversation, offer alternative viewpoints and bolster the public's understanding and imagination of what our technological future will be.
Through a diligent process of working with a world renowned relationship management company, @Onalytica and a multi-award-winning marketing agency, OST, Kingston Technology @KingstonTechBiz will further the conversation and involve these experts in a variety of ways through #KingstonCognate.
Among those we have identified are…
#1 Lukasz Olejnik @lukOlejnik: Cybersecurity & Privacy. Data protection. Research, engineering. Strategy. Analyst. Consultant (always happy to work on interesting projects). Technology policy, advisor. W3C Invited Expert/TAG.
#2 Eduardo Ustaran @EUstaran: Co-director of the global Privacy and Cybersecurity practice of Hogan Lovells; Eduardo is an internationally recognised leader in privacy and data protection law. He is a dually qualified English Solicitor and Spanish Abogado based in London.
#3 Jeroen Terstegge @PrivaSense: Leading privacy and data protection expert and thought-leader with over 25 years of experience. Award-winning founding father of the Binding Corporate Rules idea. Advising clients in various sectors, including the internet, financial, energy, HR, government and healthcare sector in The Netherlands and abroad.
#4 Gareth Niblett @garethniblett: Specialties: Governance, Risk, and Compliance (GRC); Information Security and ISO/IEC 27001 Information Security Management System (ISMS); Information Security Governance, Strategy, Policies, Standards, Awareness; Data Protection and Privacy
#5 Rowenna Fielding @MissIG_Geek: Information governance and privacy professional for 9 years, 6 years of experience in IT and information security. ISEB Qualified Data Protection Officer Specialities: GDPR, UK Data Protection Act, 3rd sector/charities, NHS Information Governance Toolkit, Caldicott Principles, information risk management
Download image (1920 x 7497, 8.2MB)

Conclusion:
In the months and years to come, @KingstonTechBiz and #KingstonCognate intends to engage with and share informative and insightful content from a large number of these independent experts and we hope you find it of use.
If you would like to be part of these conversations and more, please follow us on @KingstonTechBiz to hear more.