One of the first things you might have noticed about the Nintendo Switch™ is its limited storage. The unit comes with 32GB of internal storage which isn't much considering some of that storage space is used by the system itself. You might be able to download several games and apps but if you're looking to pack some serious game time, you're going to need more storage.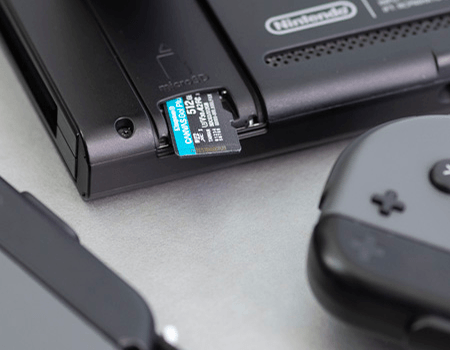 The good news is you have options!
There are microSD cards that come in a range of storage capacities. The Nintendo Switch can accommodate such cards up to 2TB in size! It sounds amazing but it turns out that regular microSD cards don't go up to 2TB. It might be available in the future but the best you can do right now is a 1TB card.
So, how much additional storage will you really need?
It all really depends on your preference. Do you prefer buying physical copies of games or would you rather download them from online? If you'd like to buy physical copies, a smaller-capacity card like a 16GB or 32GB microSD card should be fine. The advantage to buying physical copies of your games is saving storage capacity for other things. Keep in mind that some titles may not be physically available and can only be downloaded.