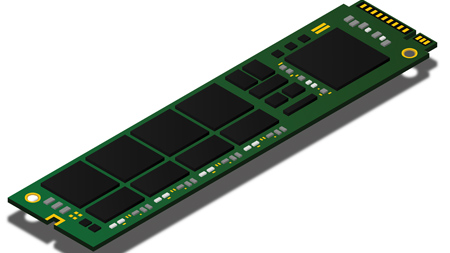 Are SSDs of use to today's gamers? Gamers who are looking to get the highest performance from their computers have turned to SSDs – the premium hard drive that is technically not a hard drive. Hard drives are the traditional magnetic platter storage drives (HDD) that have been used since the mid-1950s.
You often see SSD in reference to solid-state drives. But you just as often see it referred to as SSD drive – also solid-state drive. These types of redundancies are common with initialisms: see 'ATM machine' or 'CPU unit'. But instead of fixating on a trivial issue, let's see what all the SSD talk is about and why gamers should be thinking of SSDs.
First, let's talk SSD basics. In the late 2000s SSDs started to become a more popular choice for computer storage. Today, it is recognized as a premium alternative to the once-ubiquitous magnetic HDD (hard disk drive). For good reason. Today, you will see SSDs in both computers and gaming consoles.
An SSD is a storage medium that uses non-volatile (flash) memory to hold and access data, unlike an HDD. In other words, there are no moving mechanical parts as there are with an HDD. And because it has no moving parts, an SSD is very stable and better suited to handle drops, shakes, shocks, and everyday wear and tear. This means they're more reliable and less apt to experience data loss.
SSDs are 35 to 100 times faster than HDDs. What does this mean for gamers? A machine that has superior performance because of its faster boot times, data movement, and higher bandwidth. Additionally, faster speeds mean SSDs can handle data at the ultra-high speeds necessary in today's gaming world. With Microsoft releasing the DirectStorage API for Windows, games can potentially tap into these fast transfer rates for even quicker load times too.