Design-In Solid State Drives for system designers and builders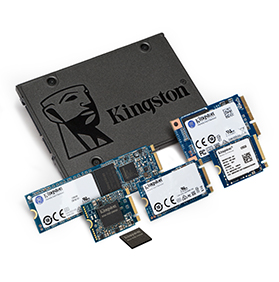 Kingston® offers a line of design-in SATA and NVMe solid-state drives created specifically for system designers and builders.
The line includes
SATA 2.5-inch, mSATA, M.2 2242 and M.2 2280
PCIe Gen. 4 NVMe: M.2 2280, M.2 2230
Design-in SSDs incorporate advanced controllers that automatically perform wear-levelling, garbage collection and other NAND Flash management features. They are a drop-in replacement for hard drives and deliver up to 20x greater performance as well as high reliability. Design-in SSDs incorporate next-generation 3D NAND Flash.
Key Benefits
System designers and builders rely on consistent storage products. Kingston offers the following benefits with the design-in SSD product line:
Controlled BOM and firmware – Ensures there are no changes to key components after customer qualification
PCN support – All generational changes and firmware updates are handled through a controlled and timed process
Engineering support – Customers have direct contact with their regional Kingston Field Application Engineering teams to ensure a fast response to storage requirement questions and support requests
Global support – Kingston can coordinate SSD deliveries with a customer's Original Design Manufacturers (ODMs) or Contract Manufacturers (CMs) in other regions of the world, if required
Warranty1 — For peace of mind, our design-In SSDs are backed by a limited three-year warranty and free technical support.
Design-In SSD Part Specifications
| 2.5" SATA Rev. 3 | Capacity | Description |
| --- | --- | --- |
| OCP0S3128Q-A0 | 128GB | 2.5" 7mm 128GB SSD (TLC) |
| OCP0S3256Q-A0 | 256GB | 2.5" 7mm 256GB SSD (TLC) |
| OCP0S3512Q-A0 | 512GB | 2.5" 7mm 512GB SSD (TLC) |
| OCP0S31024Q-A0 | 1TB | 2.5" 7mm 1TB SSD (TLC) |
| mSATA SATA Rev. 3 | Capacity | Description |
| --- | --- | --- |
| OMSP0S3128Q-00 | 128GB | mSATA 128GB SSD (TLC) |
| OMSP0S3256Q-00 | 256GB | mSATA 256GB SSD (TLC) |
| OMSP0S3512Q-00 | 512GB | mSATA 512GB SSD (TLC) |
| M.2 SATA Rev. 3 | Capacity | Description |
| --- | --- | --- |
| OM4P0S3128Q-A0 | 128GB | M.2 2242 128GB SSD (TLC) |
| OM4P0S3256Q-A0 | 256GB | M.2 2242 256GB SSD (TLC) |
| OM4P0S3512Q-A0 | 512GB | M.2 2242 512GB SSD (TLC) |
| OM8P0S3128Q-A0 | 128GB | M.2 2280 128GB SSD (TLC) |
| OM8P0S3256Q-A0 | 256GB | M.2 2280 256GB SSD (TLC) |
| OM8P0S3512Q-A0 | 512GB | M.2 2280 512GB SSD (TLC) |
| OM8P0S31024Q-A0 | 1TB | M.2 2280 1TB SSD (TLC) |
| M.2 PCIe Gen 4 x4 | Capacity | Description |
| --- | --- | --- |
| OM8PGP4128P-A0 | 128GB | M.2 2280 128GB SSD (TLC) |
| OM8SEP4256Q-A0 | 256GB | M.2 2280 256GB SSD (TLC) |
| OM8SEP4512Q-A0 | 512GB | M.2 2280 512GB SSD (TLC) |
| OM8SEP41024Q-A0 | 1024GB | M.2 2280 1024GB SSD (TLC) |
| OM8SEP4512N-A0 | 512GB | M.2 2280 512GB SSD (QLC) |
| OM8SEP41024N-A0 | 1024GB | M.2 2280 1024GB SSD (QLC) |
| OM3PGP4128Q-A0 | 128GB | M.2 2230 128GB SSD (TLC) |
| OM3PGP4256Q-A0 | 256GB | M.2 2230 256GB SSD (TLC) |
| OM3PGP4512Q-A0 | 512GB | M.2 2230 512GB SSD (TLC) |
| OM3PGP41024P-A0 | 1024GB | M.2 2230 1024GB SSD (TLC) |