Kingston FURY Partners with Method, expanding its World of Warcraft relationships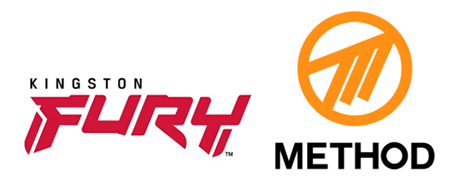 Sunbury-on-Thames, UK – 3rd May, 2023 – Kingston Technology Europe Co LLP, an affiliate of Kingston Technology Company, Inc., a world leader in memory products and technology solutions, announces its partnership with leading esports organisation Method. This year long partnership will see Kingston Technology support Method with the latest hardware and technology solutions to help them excel in their competitive gaming endeavors.

UK Based Method is a global top guild in World of Warcraft, as well as a world class MMO and RPG gaming organisation. The team has achieved numerous accolades, including winning the Race to World First an impressive twelve times, and have a large following in the RPG gaming community. With this partnership, Kingston Technology will work closely with Method to provide them with top-of-the-line hardware and technical support to help them achieve even greater success in the upcoming year.

Scott McMillan, Founder & CEO of Method, said, "Having Kingston's support during the last RWF in 2022 gave Method a great boost so I am very excited that we are able to extend and continue the partnership going forward. Joining forces with Kingston is a great step in the 'Road to World First' project and I am excited to continue that journey with such a great partner onboard."

"Lok'tar Ogar Method! As we party up with Method, Kingston is excited to support their epic journey towards achieving their goals," said Kingston Technology's Director of Services and Marketing, Robert Allen "As a company that prides itself on performance, we look forward to providing Method with the best in slot gear to help them achieve success in Azeroth."

Kingston has always been a proud and regular sponsor of esports and is looking forward to its partnership with a WoW team in Method. As part of the partnership, Kingston Technology will provide Method with a range of high-performance products, including DDR4 and 5 memory modules and solid-state drives to help the team perform at their best.
For more information visit kingston.com/gaming.
Kingston can be found on:
About Kingston Technology Europe Co LLP
Kingston Technology Europe Co LLP and Kingston Technology Company, Inc., are part of the same corporate group ("Kingston"). Kingston is the world's largest independent manufacturer of memory products. From big data, to laptops and PCs, to IoT-based devices like smart and wearable technology, to design-in and contract manufacturing, Kingston helps deliver the solutions used to live, work and play. The world's largest PC makers and cloud-hosting companies depend on Kingston for their manufacturing needs, and our passion fuels the technology the world uses every day. We strive beyond our products to see the bigger picture, to meet the needs of our customers and offer solutions that make a difference. To learn more about how Kingston Is With You, visit Kingston.com.
Editor's Note: For additional information, evaluation units or executive interviews information please contact Debbie Fowler, Kingston Technology Europe Co LLP, Kingston Court, Brooklands Close, Sunbury-on-Thames, TW16 7EP. Press images can be found in Kingston's press room.
# # #
Kingston and the Kingston logo are registered trademarks of Kingston Technology Corporation. IronKey is a registered trademark of Kingston Digital, Inc. Kingston FURY and the Kingston FURY logo are trademarks of Kingston Technology Corporation. All rights reserved. All trademarks are the property of their respective owners. 
Media Relations:
EMEA PR Team
Kingston Technology Europe Co LLP
+44 (0) 1932 738888
[email protected]
Maggie Zaboura
Zaboura Consultancy Ltd
+44 (0) 2072973371
[email protected]