Why do companies need to use Encrypted Solid-State Drives (SSD) / Self-Encrypting Drives (SED)? What is TCG Opal 2.0, AES 256-bit Hardware Encryption and what are the benefits for a company, its IT or MIS department and data protection best practices?
This UV500 encrypted family of solid-state drives infographic will highlight the cybersecurity costs and ways to not only help protect from data breaches, but also reduce costs by using encryption, managing storage and data. Implement an efficient solution with flexibility for the right applications and devices. Learn how Kingston can help you manage threats, reduces risks and potential costs of a breach.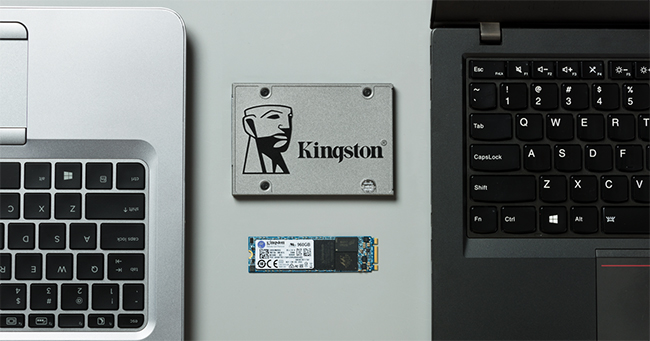 01 Data Breaches and Stolen Records Can Cost Organizations Millions
The cost of a typical data breach can be as much as $3.62 million for some organizations, with the average number of stolen records exceeding 20,000 at a cost of $141 per record.
02 Cyber Security Data Protection Significantly Reduces Costs
According to Ponemon Institute's June 2017 Cost of Data Breach Study, organizations can significantly reduce their costs by using cyber security data protection. By staffing an incident response team organizations can save over $400,000 per breach. The report also finds that the extensive use of encryption can save organizations an additional $385K.
03 SSDs with Hardware-based Encryption Protect Company Data
The UV500 provide 256-bit AES Hardware-based encryption and support for the Trusted Computing Group (TCG) Opal 2.0 security policy standard. TCG is the international industry standards group that defines hardware-based root of trust for interoperable trusted computing platforms. Opal, or Storage Workgroup for Policy Controlled Storage Device Architecture is a standard for managing self-encrypting drives. Opal 2.0 is the latest version of the standard specifically.
04 Kingston Uses the Latest Storage Technology
The Kingston UV500 family of SSDs use the latest 64-layer 3D NAND flash technology which is the latest storage technology available. This allows for more storage to be available in less physical space and at a lower cost.
05 There are Many Benefits to TCG Opal
The TCG standards ensures that only authorized machines can access networks and ensures the health and compliance of storage drives. By following Opal, the UV500 transfers the processing load of encryption to the SSD, cutting the stress of the PC CPU, for faster encryption and is compatible any operating system. ISV can incorporate both TCG OPAL and their own endpoint drive encryption into their data loss prevention software. TCG OPAL standard provides for centrally managed security policy, password recovery, automatic updates and user creation/deletion that are built-in to the Kingston UV500.
06 Lower Cost of Ownership (TCO)
Hardware-based encryption requires lower overhead compared to software, reducing the need for complex infrastructure to manage encryption keys, and requires no modifications to the OS or apps. The wide variety of form factors available simplifies the deployment of PCs which saves time for IT management.
07 The Benefits of Data Loss Prevention Strategies
Compared HDDs that are unprotected and unsecured, the use of self-encrypting SSD minimize the risk of data loss. Independent Software Vendors (ISV) like as WinMagic, Symantec, McAfee, and Sophos provide endpoint drive security solutions that compliment and simplify drive deployment.
08 Encrypted SSDs are Essential for Many Industries
SED SSDs are used across organizations large and small, both in government and private sectors, and in industries like health care, finance, and education which are both internal and increasingly mobile. They must comply with industry standards and regulations like the GDPR. Kingston SEDs are one element of a managed security solution's quest toward the compliance of such regulations.
09 Kingston SED SSDs and Compliance Toward Standards and Regulations
In industries like health care, finance, and education there are industry standards that identify and indicate rules for data protection. EU regulations like the GDPR (General Data Protection Regulation) can fine organizations up to €20 Million or 4% of their annual global turnover, whichever is greater. Article 32 of the GDPR specifically address the security of processing, and encryption can go a long way towards compliance.
10 Kingston is a Proven Leader in Innovation and Customer Service
Since 1987, Kingston has been known for the highest quality memory products available. Kingston is committed to using the highest-quality components and 100-percent testing which makes Kingston memory and storage the most reliable on the market. Our free technical support is available to help with any SSD questions you may have.
Watch the videoLearn more about the UV500