Why NVMe Matters in the Data Center
Storage protocols are improving as organizations invest in the ongoing digital transformation that is happening in the data-heavy enterprise environment. Until now, SATA (supports SSD and spinning disk hard drives) was the dominant protocol but with the rise of non-volatile memory express, the gears are shifting towards a new kind of technology.
Known as NVMe, the new storage protocol empowers data centers and enterprise environments to fully take advantage of high-performance flash memory. Because the SATA interface was built for hard drives, it has many inefficiencies when paired with flash memory based SSDs. While the SATA protocol is available in both SSDs and HDDs, NVMe is particularly designed for SSDs. As a result, the difference in performance between SATA and NVMe is impressive.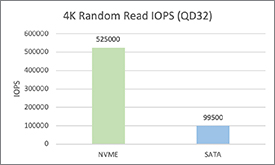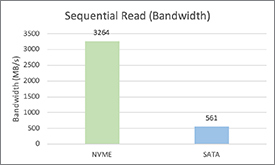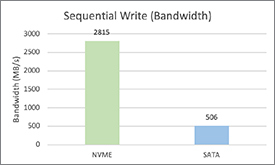 Fig. 1 above shows IOPS and bandwidth differences in SATA and NVMe
SATA III boasts speeds up to 600MB/s but is unable to sustain this kind of performance consistently. SATA based SSDs are proficient for some data center workloads since there are many legacy servers in the field that only support SATA/SAS SSDs, but they will eventually be limited and capped in their performance.
By enabling numerous I/O operations at the same time, NVMe makes possible the multicore processing necessary for organizations to compete in efficiently accessing, manipulating and processing data in enterprise environments. This Quality of Service (QoS) is what provides an exceptional balance of consistent I/O delivery with high read and write IOPS performance to manage a wide range of workloads.