Windows users have been waiting since 2015 for Microsoft's next operating system (OS), but finally, the wait is over…Windows 11 is here! A lot of attention has been focused on the advanced features it offers, as well as its consolidating functions and improvements to the user experience. But Windows 11 brings with it some exciting new gaming features, let's check them out.
DirectStorage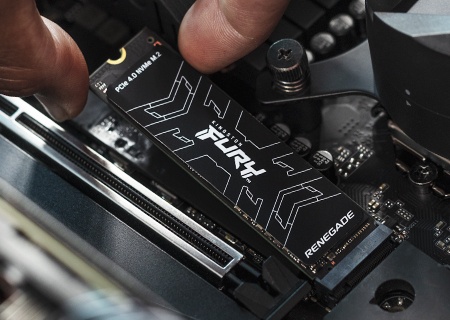 DirectStorage is (literally) a game-changing update, the technology allows NVMe SSDs to transfer a game's data directly to the graphics card, bypassing CPU bottlenecks and delivering blistering speeds for rendering, without long load times. For gaming, this means saying goodbye to loading screens and hello to faster and smoother gameplay.
Such is the excitement around it, Microsoft has recently confirmed that DirectStorage will also be available for Windows 10. Therefore, even if you choose not to upgrade to Windows 11, you can still take advantage of the benefits of DirectStorage.
It's important to note that the technology will only work with NVMe SSDs and although compatible with PCIe 3.0 SSDs, PCIe 4.0 SSDs such as the Kingston FURY Renegade and KC3000 will provide the best experience, by making the most of the next-gen SSD speed.
Whether you choose to stick with Windows 10 or make the leap to Windows 11, it seems like the perfect time to upgrade to an NVMe SSD in order to see the benefits of DirectStorage. Combined with memory upgrades and increasing the speed and capacity of your device's storage, these improvements can offer an opportunity to increase performance and thus your overall gaming experience.
Auto HDR
Windows 11 will give gamers the gift of superior graphics thanks to Auto HDR. Auto HDR is a technology that will automatically improve the visuals of a game's content without any user input. Windows 11 will automatically detect an HDR supported monitor and boost the colour of games built on DirectX 11 or higher with dynamic range enhancements. Auto HDR is the way forward for the best visual gaming experience!
Gaming tab
The settings app in Windows 11 has a dedicated gaming tab where you can switch to 'Game Mode'. This will automatically reduce background app usage to free up CPU for gaming.
Xbox Game Pass
Windows 11 brings with it an incredible selection of games thanks to the Xbox App. Xbox Game Pass members have access to a library of over 100 high-quality games.