When it comes to a PC build, there are two main options to safely mitigate heat from your CPU: air cooling and liquid cooling. Both options have their benefits, but choosing a cooling method depends on your PC's needs. In this article, we will explain how both types of cooling methods work and help you to consider the benefits and drawbacks of each type of cooling.
What is air cooling, and how does it work?
Air cooling is a very simple method for dissipating heat but can be extremely effective and easy to install! An air cooler consists of two parts: a heat sink and a fan. The fan sits either on top or to the side of the heat sink and pushes the air away from your CPU in order to cool the components down.
Benefits: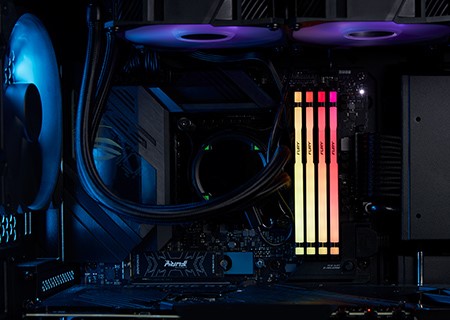 Cost – Air cooling is much more affordable than liquid cooling due to its straightforward operation. If you're on a budget, it could be worth opting for air cooling and using your excess budget to purchase more storage or faster DRAM.
Installation – Air cooling systems are easier to install than liquid cooling and are therefore the better choice for beginner PC builders. You also won't need to worry about water potentially leaking into your system!
Maintenance – There is a lot less maintenance required with air cooling, as once you have set up your system you just need to clean dust out of your PC every few months.
Despite the low price and ease of use, there are some drawbacks to air cooling:
Noise – The fans in an air-cooled system are generally noisier than in a liquid cooling system, this can be quite distracting when gaming.
Performance – Air cooling is not as efficient as liquid cooling, but it is still a good option for cooling your PC build.
Visuals – The heat sink from an air cooler is quite bulky, which can ruin the aesthetics of a build. There is also no option to change the visual look of an air cooler.