A popular offering by a United Kingdom-based charitable foundation, Raspberry Pi computers are a hit around the world. It was originally founded to get young people interested in computing and to allow them to develop their skills in programming and computer science. The Raspberry Pi Foundation has provided low-cost, high-performance single-board computers and free software since 2011. Today, many enthusiasts are replacing their PCs, setting up retro gaming machines, or even controlling robots using the Raspberry Pi computers.
However, no matter how educational or empowering these computers are, they don't come included with a key component that most other regular computers have. They have no internal storage.
All Raspberry Pi units come with an SD or microSD card slot to help users get around this issue. The original Raspberry Pi Model A and Raspberry Pi Model B take SD cards. From the Model B+ (2014) onwards, a microSD card is needed.
The minimum capacity required is 8GB to 32GB, which is Raspberry Pi's largest supported size by default, though higher capacities can be formatted to work with the units. Keep in mind, to install the official Raspbian OS you'll need at least an 8GB microSD card whereas Raspbian Lite you'll need a minimum 4GB. Raspbian is the recommended OS by the Raspberry Pi Foundation although you can run many different operating systems including various Linux distributions.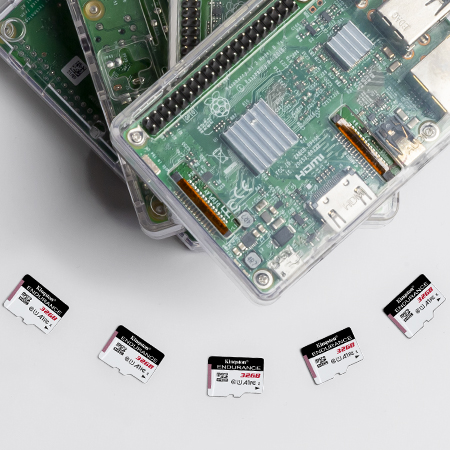 When looking at the optimal SD or microSD card, look for high endurance cards that can handle a lot of the cycle times since you will be running your operating system from it. Additionally, cards that can reach Class 10 UHS-I speeds of 95MB/s allow for easy storage and quick transfers.
Since most Raspberry Pi computers have multiple USB ports, USB drives are a great option for use with these units. They are small enough to carry in your pocket, and they provide on-the-go file storage for personal photos, music, videos, and documents.
USB ports on most Raspberry Pi models are limited to USB 2.0 but USB 3.0 devices can still be used---they'll just be limited to USB 2.0 speeds. As of June 2019, Raspberry Pi 4 B includes 2 USB 3.0 ports for faster transfer speeds and better performance. With the addition of USB 3.0, another storage option is using an external hard drive enclosure. Make sure the drive has its own external power as a Raspberry Pi will not be able to supply enough power for such a drive.
In addition to their portability, USB flash drives offer Raspberry Pi users the same key features provided by SD and microSD cards in terms of capacity sizes and read/write speeds.
These options will ensure you never run out of space for your projects.
#KingstonIsWithYou