In today's digital age, creating an efficient way of storing and archiving images is essential for any photographer's workflow. Whether or not you're a professional photographer, it's important to take a professional approach to photo storage. In this article, we discuss our best practices to ensure your images are stored securely and efficiently for decades to come.
1 - Invest in High-Quality Storage Devices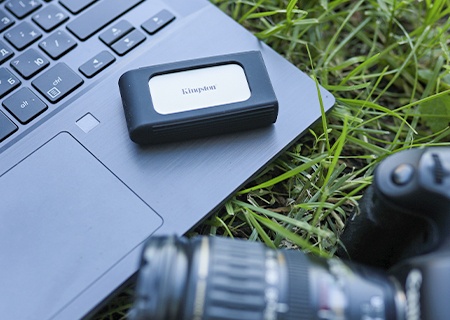 The most important aspect of storing and archiving your images is investing in reliable storage devices. You need to trust that your storage device will keep your images safe and secure. The most popular storage device used by photographers is the solid-state drive (SSD), as it is designed for durability and reliability. SSDs are also faster than traditional hard drives, which will increase the efficiency of your workflow. Most photographers will also use an external SSD as a backup drive, they are a great option for your secondary storage option, as you can offload images and files and then gain immediate access to them wherever you are. Kingston's XS2000 external SSD is the perfect storage device for both personal and professional backups. Consider capacity, speed, and durability when choosing the right storage device for you.
2 - Consider Using a RAID System
Professional photographers who need to store large amounts of data might want to consider a RAID (Redundant Array of Independent Disks) system for their trusted storage option. It is a storage technology that combines multiple drives into a single unit, which provides protection in case one of the drives fail. RAID systems are more expensive than buying a single SSD but offer great reliability and data protection.
3 - Create a Strong Backup System
Always have a backup! You never know what might happen to your primary storage device: it might be subject to theft, physical damage, or computer viruses, which can be devastating both professionally and personally. A best practice is to use the traditional 3-2-1 backup strategy whereby you have three copies of your data, two locally and one off-site. This strategy gives you the best chance of ensuring you are always backed up, and you can rest easy knowing your images will always be protected. Also, remember to keep your backup system updated. A good practice is to stick to a schedule, such as backing up your images every week or month. Develop an ironclad backup strategy that makes it impossible to lose any of your images.