There are many great storage options available for creatives. Whether you're a photographer on location or a video editor doing client work, investing in good-quality storage will ensure that you avoid losing any important footage. In this article, we look at some of the best ways for creatives to store their files depending on their step in the process.
SD and microSD Cards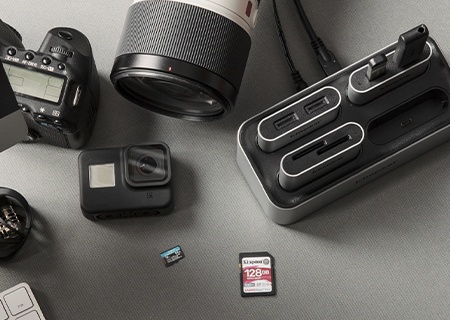 SD and microSD cards are a must-have for any creative using digital cameras or other digital devices, as they can store thousands of high-quality photos that can later be transferred to a computer to review and edit. However, this type of removable flash storage can quickly fill up, especially when shooting in HD or RAW format. For creatives, having a full memory card just isn't an option. Therefore, most creatives will carry multiple memory cards with them or will use a secondary storage option to quickly offload photos from their memory card and start shooting again.
Kingston Workflow Station and Readers
The Kingston Workflow Station and Readers are the perfect solution for creatives who need to offload and transfer footage quickly so that their memory cards are free to shoot over and over again. The Workflow Station dock is customizable with your choice of USB mini-hubs, SD readers, and microSD readers, and can connect up to four readers to the dock simultaneously. When your memory card runs out of storage, you can simply insert the card into the SD or microSD reader and use the USB-C cable to transfer the footage straight to your laptop. The readers can be used standalone, which makes it even easier for creatives traveling or out in the field. Don't wait until you get home, use Kingston's Workflow Station on the go to speed up your post-production workflow.