Is hybrid-working opening the door to new threats?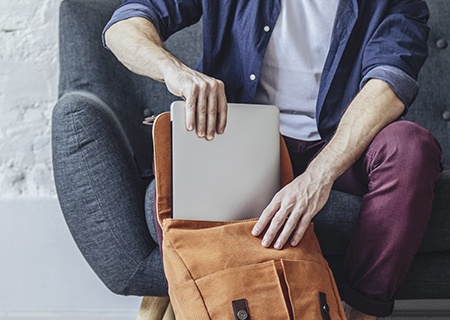 Following a Freedom of Information (FOI) request to London's TFL, we can reveal a huge increase in the risk of losing electronic devices on transport journeys across London in 2021.
Comparing pre and post-pandemic lost property and journey activity, the data shows a 22% increase in electronic device losses across the city and on the modes of transport typically used by commuters, which includes London Buses, London Overground, London Underground, TFL Rail, Docklands Light Railway and Emirates Air Line*.
This is an alarming statistic, given that hybrid working is now the norm. Company data is regularly travelling with employees, whether on USB drives, laptops or smartphones. More frequent electronic device loss means greater exposure to risk for organisations.
What does this mean for you?
For the most part, you might think your data is safe under your current security strategy. However, when data is taken outside of the office, your existing cybersecurity and DLP (data loss prevention) policies can no longer keep you safe, exposing your company to data leaks and the loss or theft of company data.
You only have to look at the news to know that data loss can be hugely expensive, whether it's the impact of fines due to GDPR, losing Intellectual Property (IP) or even the loss of employee information.
The pandemic has seen a huge shift in how and where employees work. As they return to the office, this huge 22% increase should not be overlooked, as it suggests that employees are "out of practice" and at higher risk of losing their devices during their commute. This means ensuring that your organisation has the right tools in place, to protect your employees and the company data they hold, has never been more important. This is where Kingston IronKey can help.
Rob Allen, Director of Marketing & Technical Services - Kingston Technology EMEA